Double-girder bridge crane
09 January 2019
Konecranes designed a double-girder bridge crane with 2 x 5 tonnes capacity, electric chain hoists, as well as a 10-tonne heavy-duty forklift for the Pletschacher Group, which builds pavilions for Oktoberfest.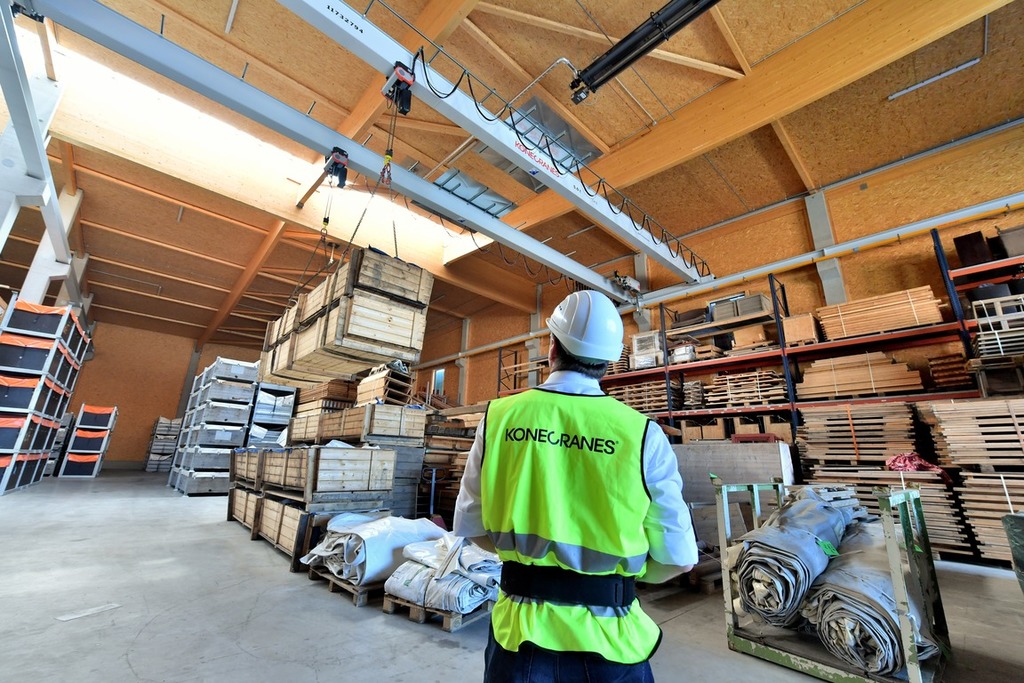 The new equipment is used in the new storage area of Pletschacher in Dasing. All elements that are needed for the Oktoberfest tents and a lot more, are stored there in four halls on a total surface area of 16,500 sq m. Approximately 1,500 container loads fit inside the halls, and there is room for 500 additional containers outside.
Pletschacher uses the four new halls to store material on Euro-pallets as well as in skeleton containers and up to 5-meter-long transport boxes. The loads, which weigh between 100kg and 5 tonnes, must be moved and loaded inside the hall with speed and precision.
The crane had to be able to lift quickly and continuously, must be easy to operate, and must be able to load large wooden elements with precision. For this reason, Konecranes designed a customised double-girder bridge crane and electric chain hoists. The crane has a span width of 18.5 metres and transports loads of up to 10 tonnes inside the hall. In order to be able to move bulky components, there is a distance of 3 meters between its two hoists, and it is equipped with Synchro-Hoisting hoist synchronisation. It ensures identical hoisting speeds even in the case of different loads.
The SMV 10-1200 C heavy-duty forklift lifts up to 10 tonnes with a load centre of 1.2 metres. With its wheelbase of 3 metres, it is approximately 25 centimetres shorter than normal – for a smaller turn radius.
OTHER ARTICLES IN THIS SECTION