The trolley is critical for safe load movement in hoists
13 November 2018
When specifying a hoist for use in industrial applications that demand beam-traversing motion, attention should also be paid to the trolley on to which the hoist hooks.

According to JD Neuhaus (JDN), a world leading manufacturer of hoist solutions, trolley factors such as carrying capacity, ease of installation, explosion protection and ability to negotiate curves, must all be considered if the application is to be optimised.
Three versions are available to facilitate the lateral motion of suspended loads:
Manual trolleys (LN) for pushing or pulling by hand
Reel chain trolleys (LH) for moving by unwinding the reel chain
Motorised trolleys (LM) powered by an air motor

While the standard industrial series stops at a single 20 tonne trolley, higher capacities can be achieved with the benefit of 8 wheel and even 16 wheel systems. Additionally, custom designs or utilisation of the monorail series offer traversable load placement for the entire JDN catalogue of capacities up to 100 metric tonnes.
Use in hazardous areas
Importantly, for suitability in hazardous areas, all JDN trolleys offer explosion protection to Ex II 2 GD IIA T4/II 3 GD IIB T4 classifications. Higher classifications are available on request. For instance, with even further increased spark protection for explosion group IIC, the trolleys incorporate running wheels and travel gearing manufactured in bronze for an impressive EX II 2 GD IIC T4 rating.
Curved beams
Anti-climb and anti-drop devices are also included as standard. JDN trolleys are designed to tackle all sorts of applications which can include curved beams. JDN specialists are on hand to give advice on any project where curved beams are involved.
Rack and pinion
For those seeking an even higher specification, options for JDN trolleys include a rack and pinion drive for safe load handling on offshore platforms and seafaring vessels, a spark-resistant package and offshore paint to suit rigorous operating environments. Energy can be fed by various systems, including energy chain, C-shaped rail, square rail or spiral hose, to best suit application requirements.
Restricted headroom
For applications with restricted headroom, JDN offers a special-purpose series of low-headroom trolleys, meaning tight load placements can still traverse economically utilising JDN's special low-headroom design. The standard range offers carrying capacities from 0.5 to 6.3 tonne, with higher capacities available for custom built projects. This alongside other JDN traversing solutions creates a multitude of trolley capabilities.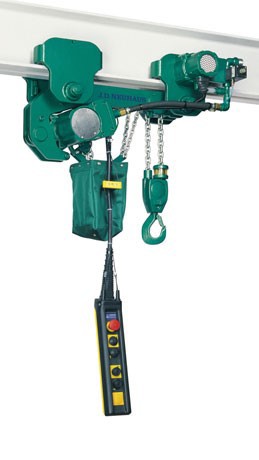 Also able to negotiate overhead rail curvature, JDN's low-headroom trolleys feature extended tie bars for bulky or elongated loads. The same options and energy feeding systems available for JDN's standard trolley range, can also be offered to users of low-headroom versions, with the addition of hose trolley energy feeding to the list of choices.
Remote control
All hoists and trolleys can be remotely controlled by the recently introduced JDN radio control systems, offering ease of use and convenience. The remote controls are an effective alternative to where long control hoses are required and for use in hard-to-reach areas, providing simultaneous control of multiple hoists and trolleys. Comprising a transmitter and receiver, the JDN-RC (Remote Control) is available for both new and retrofit applications.
Broad range of applications
Typical applications for JDN's Profi hoist/trolley combinations include aircraft construction, general assembly lines, auto plants, dairies, electroplating lines, foundries, paint shops, steelworks, power plants, refineries, sawmills, shipyards and tempering plants, as well as a host of uses in the chemical, cement, food, furniture, glassmaking, paper and textile industries, to list but a few.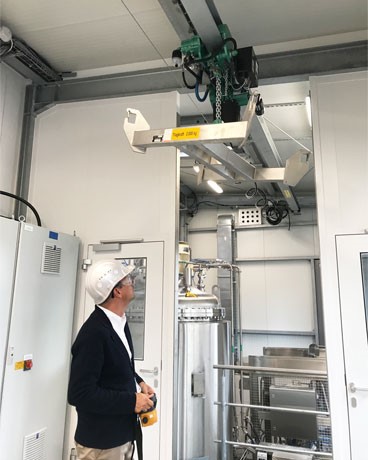 OTHER ARTICLES IN THIS SECTION