New mover for fluid stock
12 December 2012
Packaging innovator, Loadhog has developed a system to help solve the issues of storing and moving fluid stocks for hospitals. The new WardHog mobile shelving system offers the efficient, flexible, hygienic and accessib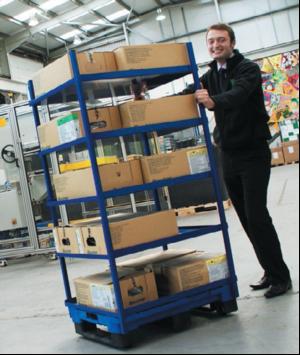 Packaging innovator, Loadhog has developed a system to help solve the issues of storing and moving fluid stocks for hospitals. The new WardHog mobile shelving system offers the efficient, flexible, hygienic and accessible storage of boxes of fluids, either on-ward or in storage areas.

With no permanent fixtures, and three solid tray layers capable of holding up to 24 boxes, the WardHog increases storage capacity and frees up significant space.

Having a Pally (a pallet and dolly combined) at the base, the easy and safe movement of the whole system, with content weight up to 500kg, is possible with one foot pedal press.

When at the desired location, the system can be secured as a stable pallet, again with a single pedal press.

In terms of hygiene, the WardHog can be wheeled to allow cleaning both underneath and behind, with the boxes permanently clear of the floor.
OTHER ARTICLES IN THIS SECTION