Ship parts propelled to replacement
12 December 2012
Air operated lifting equipment from J D Neuhaus is reported to have a proven pedigree for operation in the shipyard and offshore industries, with a range of hoists and winches which provide sensitive positioning control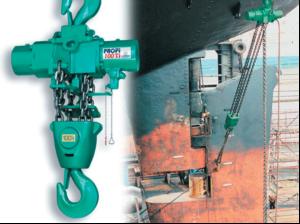 Air operated lifting equipment from J D Neuhaus is reported to have a proven pedigree for operation in the shipyard and offshore industries, with a range of hoists and winches which provide sensitive positioning controls with rugged, safe and reliable lifting capabilities.

In a recent application of this type, a 34t starboard propeller on the US aircraft carrier Enterprise has been replaced. The operation was successfully carried out underwater in Francisco Bay using three JDN Profi air hoists, each with a capacity of 50t.

JDN lifting equipment also has an Ex rating as standard, making it suitable for refurbishment work on vessels that may previously have been carrying hazardous or potentially explosive cargo.

The JDN equipment available includes the Profi range of hoists with lifting capacities from 250kg up to 100t. These are equipped with mounting lugs for overhead rail mounting using manual, reel chain or air-motor operated trolleys.
OTHER ARTICLES IN THIS SECTION