New generation air hoists
12 December 2012
J D Neuhaus has launched a new generation of purpose designed monorail air hoists. The new EH25 hoist in this range has a lift capacity of 25t and can be supplied with either air or hydraulic control of the lift and tra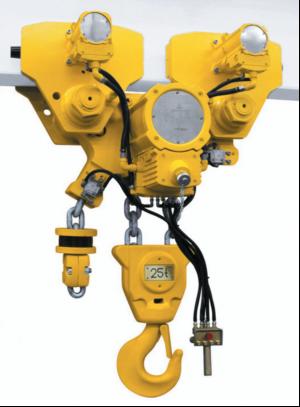 J D Neuhaus has launched a new generation of purpose designed monorail air hoists. The new EH25 hoist in this range has a lift capacity of 25t and can be supplied with either air or hydraulic control of the lift and travel movements, as well as optional remote electrical or radio controls.

The product meets requirements for safe and effective BOP handling, whether for vessel, offshore or land based operations.

With an Ex rating for operation in explosive atmospheres, the hoist is also suited to applications in other hazardous conditions, typically as found in the chemical or cement manufacturing industries.

Standard features include optimised air flow guidance and reduced noise levels with up to 25% less air consumption due to a new energy saving valve. Adjustable beam width mounting and 3m lift is provided, together with an offshore corrosion protection package.
OTHER ARTICLES IN THIS SECTION