Processes streamlined by Straddle Carrier
12 December 2012
Windsor Materials Handling supplies a Combilift Straddle Carrier to steel fabricator Structural steelwork contractor and fabricator Caunton Engineering has taken delivery of one of Combilift's newest products, a Combi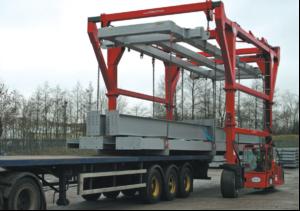 Windsor Materials Handling supplies a Combilift Straddle Carrier to steel fabricator

Structural steelwork contractor and fabricator Caunton Engineering has taken delivery of one of Combilift's newest products, a Combilift Straddle Carrier, which is being put to very effective and space saving use in the storage yard of the company's premises in Nottingham.

Fully automated contractor Caunton deals with over 25,000 tonnes of steel a year, making a streamlined logistical process crucial.

Safer operation, better use of space and much quicker procedures were the main factors behind the decision to go with the Straddle Carrier, according to production director Mark White.

"We asked Windsor Materials Handling for advice on heavier capacity machines and together with Combilift's Stephen Wells they recommended we look at the Straddle Carrier, which had just been introduced into Combilift's range.

"We chose Windsor as our preferred supplier due to the company's track record of expertise and Windsor's Andy Lane was spot on with his recommendation. Since taking delivery of the machine, which has a 30t lift capacity, we have seen considerable benefits and have much better control of our logistics. For example, we can now unload a delivery truck in just 10 minutes. It is also ideal for our bespoke loads such as girders and prefabricated items that range from 12m to 23m in length." As the name of the machine implies, the frame and wheels of the Straddle Carrier are positioned either side of the load, which has enabled aisle widths between stacked product to be set at just 1m, compared to the 3.5m previously needed (for manoeuvring forklifts). The space this has created in the yard will make it much easier for Caunton to deal with any delays in customers' projects without impacting on their own production schedules.

White adds: "Our ability to store finished products was limited in the past if customers had to put back delivery, but the extra capacity will avoid on-site congestion, and also allow us to buy in quantity when the price is advantageous." The low level transportation of very heavy and potentially dangerous loads has also contributed to better health and safety procedures as risky lifting at height is no longer necessary. In spite of its size the Straddle Carrier's ability to turn on its axis makes for impressive manoeuvrability, and the low set operator cab affords 360 degree visibility. In addition the three wheel patented design ensures maximum stability with all 3 wheels permanently in ground contact even when travelling across rougher surfaces.
OTHER ARTICLES IN THIS SECTION