Picking among show highlights
12 December 2012
Interroll will exhibit details of its range of dynamic storage solutions for pallet live and carton live buffer and picking at Frozen & Chilled Foods Show 2011. Storing chilled and frozen food is a challenging busines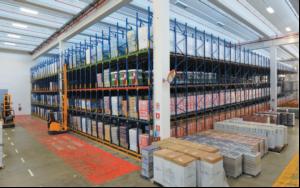 Interroll will exhibit details of its range of dynamic storage solutions for pallet live and carton live buffer and picking at Frozen & Chilled Foods Show 2011.

Storing chilled and frozen food is a challenging business and successful companies handling fast moving products look to utilise systems that optimise available cubic space, ensure maximum energy efficiency and provide easy access to support accurate order picking and stock rotation.

Interroll's dynamic storage systems are said to meet these criteria and are already successfully operating in conditions as low as -28 degrees. Utilising roller and wheel components to create 'Pallet Flow' for FIFO (First-In First-Out) and LIFO (Last-In First -Out) pallet live systems, and 'Carton Flow' systems that can handle totes, cartons and trays - Interroll can provide bespoke dynamic storage solutions for cold store and freezer applications.

Interroll dynamic systems can be integrated and interfaced with conveyors, automatic stacker cranes and paperless Pick to Light system.

Pallet Live systems provide efficient and ultra dense storage of palletised goods as minimal aisles are required. Goods are inserted at the on-load face and travel down lanes under the force of gravity to be picked from the off-load face.

Dynamic systems offer a high level of flexibility and provide decisive advantages of space saving, accurate stock rotation and management, with low maintenance requirements.
OTHER ARTICLES IN THIS SECTION