Website revamp
16 May 2013
The J D Neuhaus website, jdngroup.com has been revamped to include a more prominent presentation of products in the homepage menu.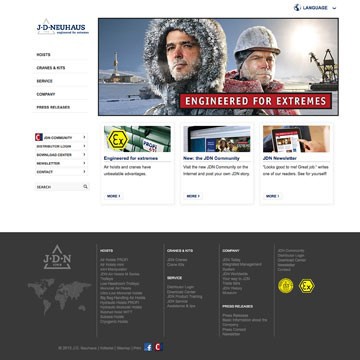 Products include purpose-designed handling equipment which is 'engineered for extremes' and used for applications in some of the most demanding engineering markets. Details of worldwide subsidiaries are supported, with the site available in seven different languages.
JDN Community is an interactive platform for exchanges of views between those who specify, provide or have full hands-on experience of JDN products in the field. Reports are encouraged for all exciting, unusual and general run-of-the-mill experiences with JDN products. Current articles include: Two JDN monorail hoists used at -15°C at a Russian oilfield; and a J D Neuhaus pneumatic chain hoist used in the explosion hazard environment of a spray painting booth.
OTHER ARTICLES IN THIS SECTION