Making light work
18 June 2013
Injuries in workplace environments can occur when personnel are lifting or moving inappropriately heavy loads.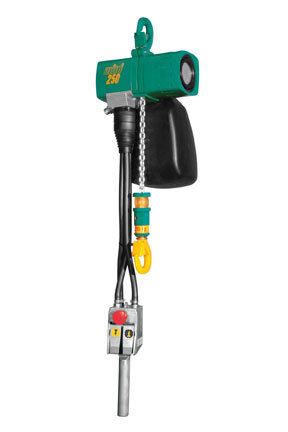 The use of mechanical lifting equipment helps, but can also be time consuming, particularly where rope or chain wheel manual operations are associated with raising loads to above head height. Air powered lifting has been proved to be safe, effective, economical and time saving, particularly where there is an existing compressed-air power source available.
J D Neuhaus supplies high performance air operated handling equipment, suitable for operation in the toughest environments for individual loads up to 100t.
The company is also able to supply air hoists designed for operating in light to medium engineering and general workshop applications. These products ensure workshop health and safety compliance for load capacities up to 2t, with hoists that have been manufactured to the same high standards as their heavier duty equipment.
Two ranges of general lower duty hoists are available, including the JDN Mini series with models available for payload ratings of 125, 250, 500 and 980kg. Aluminium bodied, they provide optional lift heights of 3, 5 and 8m with a 6 bar air supply.
Where more rugged, steel-bodied hoists are required, the JDN Profi TI series incorporates four models in a lower-load range rated at 250, 500 and 1000kg plus a 2t lift capacity unit.
OTHER ARTICLES IN THIS SECTION