Explosion protected crane systems
12 November 2014
Crane systems manufactured by J D Neuhaus can be supplied with Atex classifications EX II 2 GD IIA T4 / EX II 3 GD IIB T4, with increased spark protection also available for explosion level
 II C.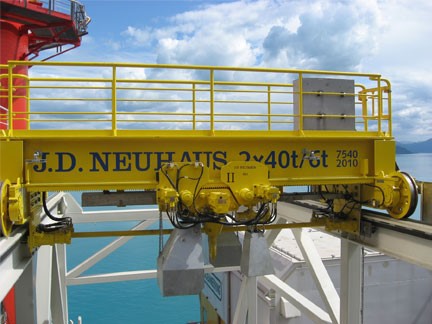 All load lift, lower and traverse operations operate off a pneumatic air-line pressure of 85psi (6 bar), with optional hydraulic operating systems also available. This eliminates the potential hazards and dangers associated with electrically powered equipment when operating within areas of high dust or humidity.
The JDN range covers both single and double girder overhead travelling cranes, together with slewing jib cranes and underslung cranes incorporating purpose designed low headroom hoist trolley designs.
OTHER ARTICLES IN THIS SECTION