Responsive retailers poaching millions in sales
18 December 2015
International delivery experts ParcelHero say early internet delivery deadlines are losing e-commerce companies thousands of potential orders, and confusing shoppers.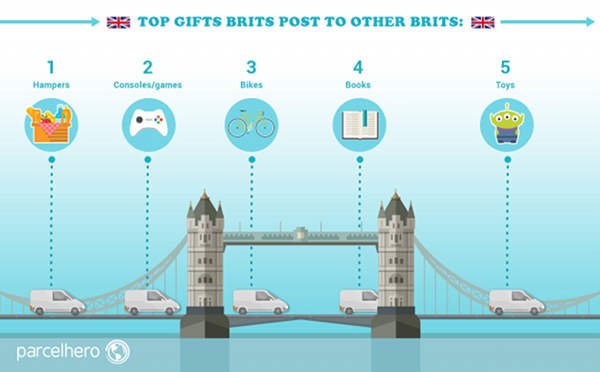 December 16th was the deadline for online Christmas orders for many small traders and even some major stores such as Liberty. The international delivery experts ParcelHero say many e-commerce sites are losing vital last minute shopping orders by missing out on a whole week of potential extra sales.
And ParcelHero says that consumers are finding the wildly varying final deadlines for online sales confusing. ParcelHero's Head of Public Relations, David Jinks, explains: 'Some major retailers, such as Liberty, are already saying on their web sites: "We can no longer guarantee delivery in time for Christmas". High Street retailers are anticipating a hectic "Panic Monday" on 21 December as last minute shoppers desert the internet and take time off work to complete their shopping. Yet there's still plenty of time to order online on other sites. In fact, Amazon Prime Now customers can leave it as late as 9.45pm on Christmas Eve to order. Even Santa doesn't accept lists that late! It's small wonder that shoppers are turning to our new online tool to discover which major internet retailers are still accepting orders.'
Says David: 'Those more responsive internet retailers who offer significantly later delivery dates are set to poach £millions in last minute sales from those stores lacking later deliveries. It is mainly smaller e-commerce sites that are losing the majority of sales. The final order date for those Amazon marketplace and eBay retailers who only offer Economy deliveries using cheap delivery companies has already come and gone. It doesn't matter what great prices they offer, if items can't be guaranteed delivery before Christmas Day, shoppers will vote with their feet, or mouse.'
Adds David: 'Think of all the sales retailers failing to offer later delivery dates are missing out on. The retail intelligence specialist Footfall is saying that, after a disappointing Black Friday, when orders fell 4.5 per cent year-on-year; shopping on Panic Monday, 21 December, looks set to rise by 2.5 per cent. Many Internet retailers will lose out on this extra custom through not offering more flexible delivery options.'
Concludes David: 'The e-commerce trading experts Tamebay report Argos is making a virtue out of delivery dates by offering orders right up to 6pm on Christmas Eve. And Amazon's Prime Now Christmas Eve deadline of 9.45pm, in London and other selected cities, shows what can be done if retailers place enough emphasis on delivery options. Forget Star Wars, this Christmas it's Store Wars, and the weapon of choice is not light sabres; but the Force of flexible delivery options.'
Find out your favourite store's last order deadline, and the last-minute dates for sending your own Christmas gifts to friends and relatives here.
OTHER ARTICLES IN THIS SECTION