Heathrow gets the nod over Gatwick
25 October 2016
Heathrow has been chosen as the location for the UK's new runway with the Government saying 'expanding Heathrow will better connect the UK to long haul destinations in growing world markets'.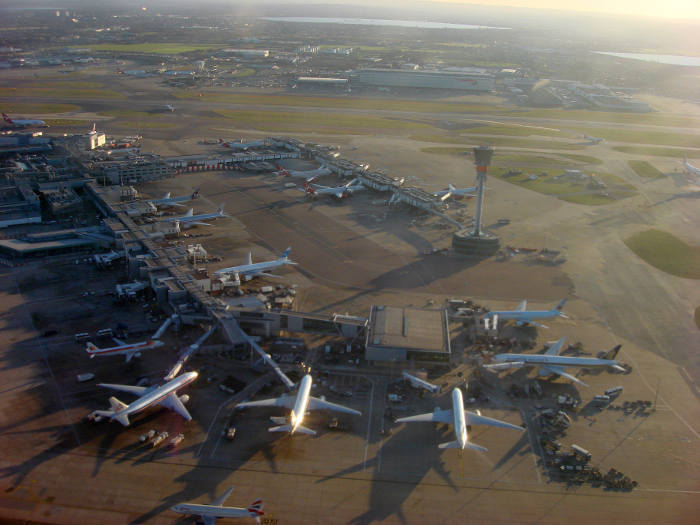 Grayling
Transport Secretary Chris Grayling said: "A new runway at Heathrow will improve connectivity in the UK itself and crucially boost our connections with the rest of the world, supporting exports, trade and job opportunities. This isn't just a great deal for business, it's a great deal for passengers who will also benefit from access to more airlines, destinations and flights.
"This is an important issue for the whole country. That is why the government's preferred scheme will be subject to full and fair public consultation. Of course it is also hugely important for those living near the airport. That is why we have made clear that expansion will only be allowed to proceed on the basis of a world class package of compensation and mitigation worth up to £2.6 billion, including community support, insulation, and respite from noise – balancing the benefits and the impacts of expansion."
Chartered Institute of Logistics and Transport
The Government's decision to support the provision of an additional runway at Heathrow should be made into a 'win-win' situation for all parties, claims The Chartered Institute of Logistics and Transport (CILT) after today's announcement.
Paul Le Blond, Chair, Aviation Policy Group, CILT said: "The end to uncertainty over airports policy is welcomed by logistics and transport professionals, whichever option they supported, but there can be benefits for all parties, who can now take action to ensure that the decision is implemented in the best possible way for all."
Kevin Richardson, Chief Executive, CILT, added: "The whole of the UK must benefit from this decision. As well as the new runway providing better connectivity from the regions to London and then to the world, the Government should publish a draft National Policy Statement as soon as possible so that the UK's airports and the airlines which they serve can see a clear strategy ahead, local authorities can plan properly for growth and surface access providers can implement the improvements for many of the airports."
Freight Transport Association
Chris Welsh, FTA Director of Global and European Policy, said: "This is excellent news for the freight and logistics industry and the country. This decision is even more vital in a post-Brexit world where Britain's capability to expand its trade and ability to compete in markets outside Europe is heavily dependent on connectivity to emerging markets. About 40% of UK imports and exports by value are dependent on air freight and the wide range of services provided by Heathrow to access our overseas markets."
SEGRO
CEO David Sleath said: "We welcome the Government's support for a third runway at Heathrow, which gives business confidence that the new Government is serious about infrastructure delivery and maintaining Britain's position as a global trader. What's more, 84% of our customers support this decision Air cargo accounts for 40% of Britain's exports by value, and more goods leave Britain via Heathrow than from all other UK airports combined. Giving the go ahead for a third runway would provide a shot in the arm for the many established businesses and SMEs across the UK that rely on access to international trade markets."
VIDEO
This video shows what the third runway at Heathrow will involve.
Click here.
CBI
Paul Drechsler CBE, CBI president, added: "It will create the air links that will do so much to drive jobs and unlock growth across the UK, allowing even more of our innovative, ambitious and internationally focussed firms, from Bristol to Belfast, to take off and break into new markets."
NEGATIVE REACTION
The long delayed decision has prompted negative reaction from some quarters.
London's Mayor
Mayor of London, Sadiq Khan, said:
"A new runway at Heathrow will be devastating for air quality across London – air pollution around the airport is already above legal levels of NO2.
"Heathrow already exposes more people to aircraft noise than Paris CDG, Frankfurt, Amsterdam, Munich and Madrid combined. A third runway would mean an extra 200,000 people impacted, exposing 124 more schools and 43,200 more schoolchildren to an unacceptable level of noise.
"An expanded Gatwick would have boosted our economy without causing these huge air and noise pollution problems and it could be built quicker and cheaper.
"I will continue to challenge this decision and I am exploring how I can best be involved in any legal process over the coming months."
No more delays
James Stamp, global head of aviation at KPMG, comments on Governments latest announcement on the decision about new runway capacity. He said:
"Now, more than ever, UK plc needs to demonstrate both its ability and willingness to connect to trading partners and investors in the rest of the world. This is the right time to send a strong message that we are open for business.
"Unfortunately, while the cabinet commitment to a Heathrow scheme is positive, the additional delay sends a mixed and somewhat indecisive message to business and global investors. In the UK, it means businesses still can't really plan. To the rest of the world, this country looks increasingly isolated, and unable (or unwilling) to move forward with pace and vision.
"The debate about new runways in the UK has not just about where to lay 3000 metres of concrete; it's fundamentally about how we secure our future economic prosperity. The reality is stark: currently London is not directly connected to 128 of the biggest cities in the world; we lack connections to 194 of the 309 cities that will have populations over two million in 2030; and our competitors already connect to 41 of these global growth engines.
"A truly positive statement would have gone a long way to alleviate the concern that we are missing those global connections that are now so important for business, jobs, and growth. However, the partial commitment does nothing to really reassure investors that we are moving forward to establish our place in a post—Brexit world."
Right location, wrong scheme
Heathrow Hub says the Government has selected the right location but the wrong scheme.
Anthony Clarke, principal investor in the Heathrow Hub scheme, said: "Our proposal is cheaper, simpler, less disruptive and quicker to construct than Heathrow Airport's 3rd Runway."
The Green Party
The decision to approve expansion at Heathrow airport lacks 'common sense' and is 'manifestly against the interests of the UK and the British people', according to Green MEPs.
Keith Taylor, Green MEP said: "There are no two ways about it; this is a disastrous decision for the people of the South East, London, Britain, and the planet. Welcome to Theresa May's never-never land, where prime ministers never have to listen to scientists and never have to apologise for increasing CO2 emissions and air pollution levels."
Goldsmith to resign
Tory Member of Parliament for Richmond Park and North Kingston Zac Goldsmith said on Twitter: "Following the Government's catastrophic Heathrow announcement, I will be meeting my constituents later today before making a statement."
It is anticipated he will resign his seat in protest triggering a by-election.

LOOKING AHEAD
Legal view
Heidi Copland, Head of DMH Stallard's Planning Group anticipates a legal minefield will have to be navigated to deliver a third runway at Heathrow.
"[The decision] is subject to much opposition from environmental groups and MPs of affected constituencies. The leader of Windsor and Maidenhead Borough Council has confirmed that the authority will spend £50,000 to challenge this decision. We can therefore expect that the decision will be caught up in legal battles at each stage.
"The next step will be a public consultation and a vote by MPs next winter. The development of the third runway will require planning permission and a national policy statement. Heathrow will also need to acquire the land for the third runway. This will most likely be done by compulsory purchase.
"Each process gives the opportunity for consultation and could be tested in the courts. This makes the Airports Commission's estimated construction start of 2020/2021 seem very ambitious!"
Institution of Engineering and Technology (IET)
Lambert Dopping-Hepenstal from the Institution of Engineering and Technology's Transport Policy Panel sought to put the decision in the context of future technology development in transport.
He said: "The decision around additional airport capacity for London and the South East needs to take into account how new technologies will change the way we travel and transfer goods by air in the future, and not just look at the here and now.
"These include technology developed by Lockheed Martin and NATS that uses a technique known as 'time-based separation' (TBS), which enables aircrafts to land safely closer together, with the potential to cut delays caused by headwinds by 60 per cent. It also includes the use of autonomous air vehicles.
"It's quite possible that more investment in new technology, as well as additional runway space, would provide a more sustainable solution for air travel in the UK's busiest region. Important too is that the Government not only considers the potential for an individual airport expansion, but also how the surrounding road and rail infrastructure might support it effectively – and how a new runway can benefit the whole of the transport system and the economy of the country."
OTHER ARTICLES IN THIS SECTION