Rulmeca introduces the hygienic all-rounder stainless steel 113LS Motorised Drum
26 June 2017
There are few industries with requirements and hygienic standards as demanding and stringent as the food and pharmaceutical industries.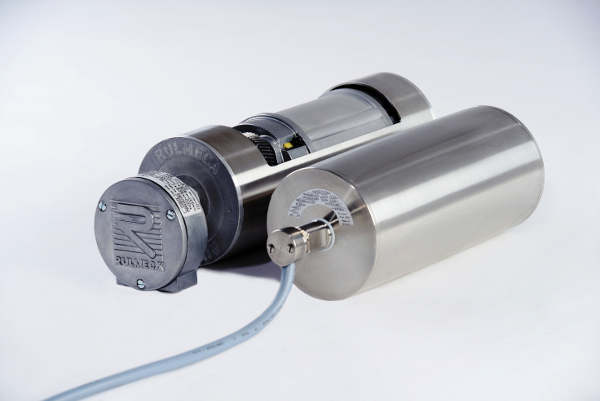 Therefore, based on proven experience and aseptic innovation, Rulmeca did not compromise when developing the hygienic, all-rounder stainless steel 113LS motorised drum to provide powerful, continuous drive for light and medium duty conveyors employed in these sectors.
IP66/IP69 protected, the drum motor offers up to 0.55 KW continuous power from a compact drum diameter of 113 mm and is available with a minimum drum width of 250mm. This can easily be installed into a conveyor frame and integrated into conveyor systems, to provide remarkably low noise conveyance with the capability of reversible operation.
Rulmeca drum motor drives eliminate the risk of contamination since the entire drive mechanism is located in a sealed unit. Everything including the motor, gearbox, bearings and lubrication are totally enclosed and sealed inside the steel shell. This makes them resistant to dust, oil, grease and impervious to high pressure cleaning and give long life trouble free operation in diverse applications. The Rulmeca drum motor 'sealed for life' design makes these drives maintenance free and reduces operational costs through less downtime.
Rulmeca drum motors require less energy to run and generate less heat and noise than a traditional gear motor. The energy efficiency of the Rulmeca 113 LS drum motor achieves an electrical efficiency of more than 77 percent in the 0.37 kW version and would be classified IE3 compliant.
Mechanically, the integrated helical gearbox transfers (94% -97%) of the available electric motor power directly linear to the conveyor system.
The versatile and uniform Rulmeca 113 LS drum motor can be implemented into new equipment or replace other existing manufacturers drum motors without major disruption. Drum motors have also been adapted to suit customers specific handling applications and all types of belt conveyor systems by fitting various options including FDA approved profiled rubber/ PU lagging, stainless steel or polymeric sprockets to provide the perfect drive solution.
So confident are Rulmeca on the all-round capability of the stainless steel 113LS Motorised Drum they are offering samples for onsite testing.
OTHER ARTICLES IN THIS SECTION