Process industry hoists itself upwards
18 December 2017
The latest Profi TI series air hoists from J D Neuhaus are said to be suitable for a wide range of applications in the process industry, from food, beverage and packaged goods, to chemical, pharmaceutical and biotech.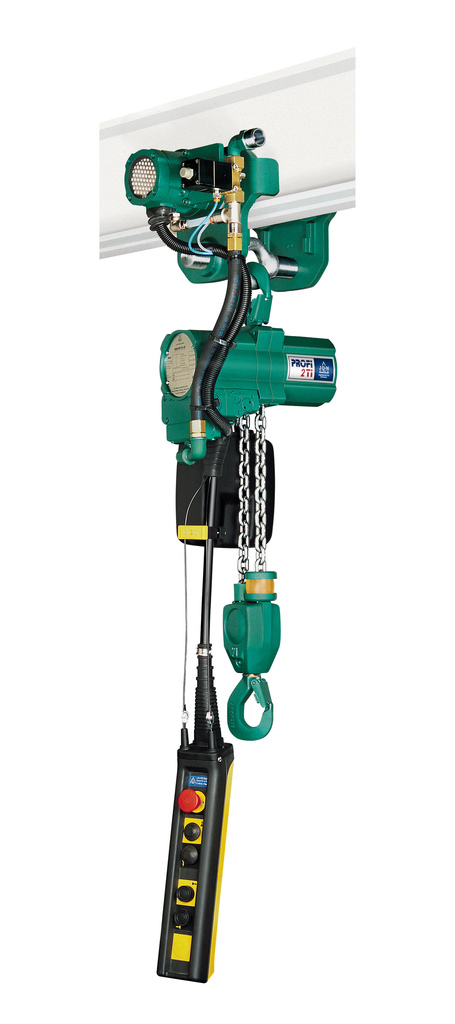 The hoists extend up to 100 tonne carrying capacity, but models in the 0.25 to 2 tonne lift range are most popular for process industry applications.
Extra features add to the package, such as variable speed-control systems (including remote control) to help with accurate load positioning.
There is also the low-headroom design. when standard trolleys do not meet the application's requirements.
Benefits include:
• easy-to-operate,
• lightweight,
• suitable for use in hazardous areas,
• insensitive to dust, vapour, humidity,
• can be used in temperatures ranging from -20 to +70°C.
Additional benefits include minimal maintenance. For example, Profi TI hoists house a low-maintenance vane motor, and the chain sprocket in the mid-section runs in dustproof, maintenance-free ball bearings.
The company says: "Ultimately, process industry users get to enjoy robust, quick, silent, oil-free hoist operation. Furthermore, the hoists are purpose-designed to offer the process industry's most efficient air-consumption rates per metre lift (as low as 0.7m³/min in some applications), helping to reduce TCO (total cost of ownership)."
OTHER ARTICLES IN THIS SECTION