Quick and accurate load handling
05 March 2018
The Platform attachment from Packline has been designed to meet with a customer's bespoke lifting and handling requirements while providing optimum flexibility and control.
This lifter with platform attachment is fitted with proximity sensors which can be precisely adjusted to suit two heights for loading and unloading.
These sensors are used to provide precise control of the attachment's two height positions. This provides the operator with quick and accurate load handling, said to be a particularly useful feature when the machine is used in a repetitive situation.
The sensors can be easily and precisely adjusted to suit the heights for loading and unloading of items.
The raising and lowering of the platform is made by push buttons.
In addition, an override button is provided should the operator require the machine to operate at other heights than those set and controlled by the sensors.
Together, these features provide easy yet precise control which enables the operator to lift, transport and handle various items with complete confidence and safety.
The machine and its attachment are suitable for the food and pharmaceutical industries and other hygienic applications.
The attachment is backed up by a full bespoke design service so ensuring that the right solution can be made to suit most lifting requirements.
All Packline attachments are fully interchangeable and can be fitted or removed from any model of 'Compac' lifting machine that is fitted with the attachment quick release system.
Specifications:
Attachment Lift Capacity: 120kg (264.55lbs)
Centre of Gravity: 550mm (21.65") from column
Attachment Mass: 38kg (83.77lbs)
Main Materials: Stainless Steel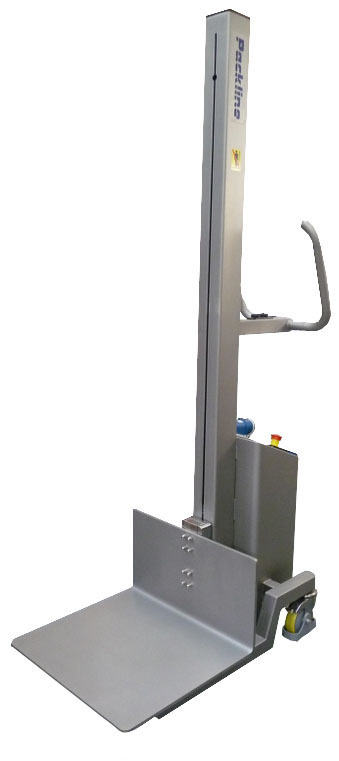 OTHER ARTICLES IN THIS SECTION