Doing much more with less
16 April 2018
A conveyor-based loading system from Joloda has allowed a drinks firm to downsize its commercial fleet from eight standard trailers to two purpose-built curtainsiders.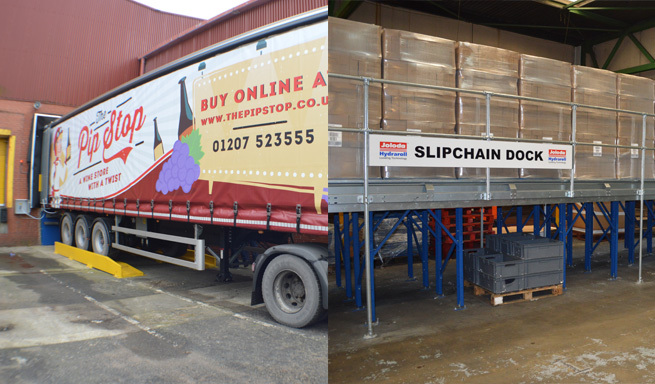 Durham-based Lanchester Wines has taken on two new purpose-built curtainsiders from Tiger Trailers in a move made possible by the Hydraroll loading system from Joloda.
The new 13.7m tri-axle trailers were developed by Tiger, in conjunction with Joloda, to help Lanchester Wines streamline the delivery operation between the company's Greencroft bottling plant and its three warehouses in the North East.
Joloda's conveyor system features a moving slipchain floor built into the loading bay which extends into the trailer itself, creating a seamless transition between the two. The system is capable of loading or unloading up to 24 pallets of wine in as little as 80 seconds, a process that previously took 40 minutes – equating to a time saving of 97 per cent per load.
John Mitcheson, logistics manager at Lanchester Wines, says: "Once Joloda had shown us how the system could improve our operation we were excited to get things moving; we were delighted that Tiger were up to the challenge of getting the trailers on the road quickly. The chance to streamline our fleet was a big part of the decision-making process and the results more than speak for themselves."
Tiger worked closely with Joloda on a bespoke trailer design that actually incorporates the system into the chassis itself. The team then included elements like a bespoke-built under-run bar to protect the Hydraroll mechanism and solid steel reinforcement along the side rave to minimise potential damage from forklifts – all measures designed to prolong the operational life of both the system and the trailer.
Karen McBride, project manager at Joloda, says: "Our innovative loading solutions have been used across a number of industries for more than 20 years, with the Hydraroll system installed at close to 500 companies worldwide. To ensure the system operates perfectly it's imperative that we work very closely with the trailer manufacturer from the outset, happily the team at Tiger were fantastic throughout the entire process.
"Joloda works with some of the largest food and beverage companies in the world, but it's really great to see our system make a real difference to a growing independent business like Lanchester Wines," McBride adds.
Both new trailers operate on a single shift pattern, travelling up to 250 miles a day, five days a week. However, the system is so efficient that the current shift pattern could be doubled or even trebled in the future as the business grows.
"The new trailers effortlessly handle around 15 loads a day between the four sites, carrying 24 pallets on each trip. As the company expands and the volume increases we'll certainly be looking at installing additional Hydraroll systems to the loading bays across our sites, which in turn will require a few more specialist trailers in order to maximise efficiency," concludes Mitcheson.
OTHER ARTICLES IN THIS SECTION