ARTICLE
CFTS says no to rulers
15 November 2018
There's a time and a place for rulers and it's nowhere near a fork lift truck.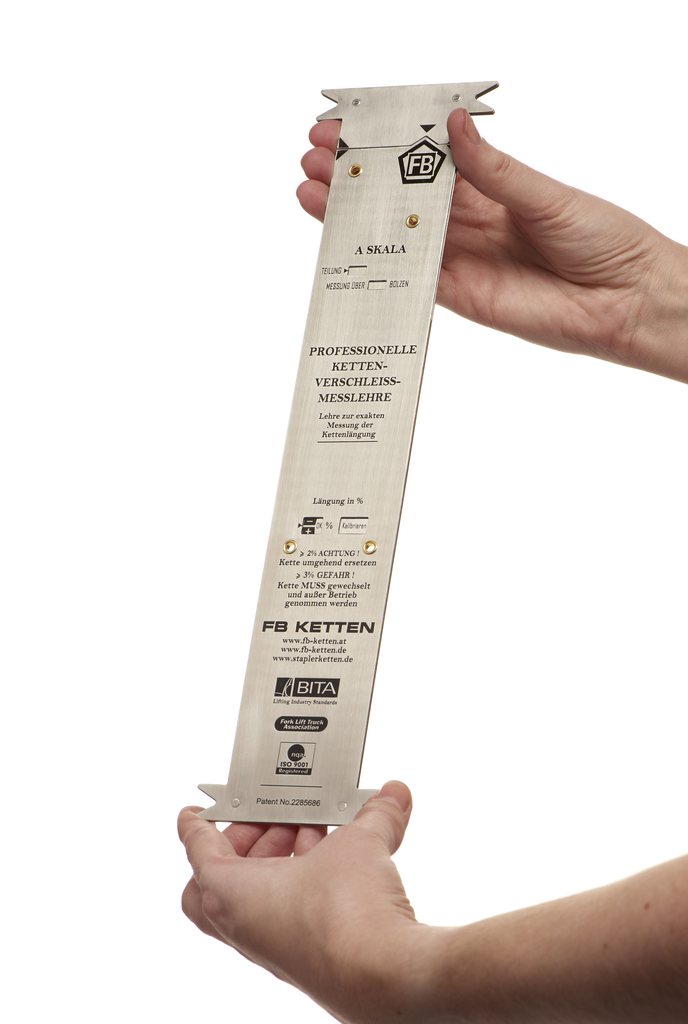 Accuracy is paramount to the process of examining trucks, as is replicability. CFTS chairman Geoff Martin explains: "When you take your car in for its annual MOT, the results generated are replicable. At CFTS, we believe your lift truck's Thorough Examination results should be, too.
"Nowhere is this more important than when tracking chain wear. Chains perform a significant role in your truck's lifting mechanism. A failure could be catastrophic, so there's no room for error.
"That's why we insist that examiners delivering our quality-controlled chain inspection do so using the high-precision FB Chain Gauge."
Designed to show how much of the chain has been worn, the FB Chain Gauge shows wear in .25% increments.
Managing director Peter Church of FB Chain explains: "Chain wear requires dealing in tiny measurements. It limits visual errors, as well as errors in calculation that you associated with steel tapes or rules.
"Unlike the standard 300 mm ruler preferred by some inspection providers, the FB Chain has delivered 100% accurate and replicable results."
In studies, it's proven its unique ability to deliver replicate results 10 times in a row.
CFTS chairman Geoff Martin concludes: "Seemingly little differences like the choice of a tool can make a big difference.
"There is a time and place for rulers, but it's clearly nowhere near a lift truck's chains where accuracy is crucial for safety."
OTHER ARTICLES IN THIS SECTION