ARTICLE
Driver comfort
11 February 2019
As the driving experience is an essential element of success in high intensity applications, Hyster Europe is focussing on enhancing the operator environment.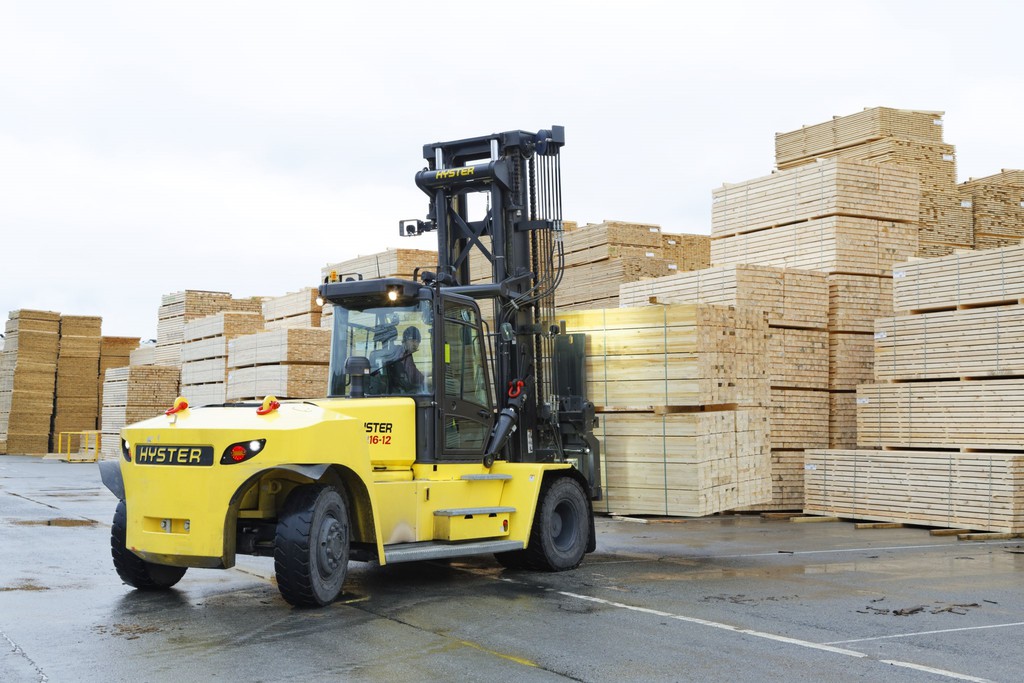 When handling expensive, awkward and heavy loads, the driver environment matters more than ever, says Chris van de Werdt from Hyster Europe.
"Every lift truck brand claims its products are ergonomic, but you have to ask, 'under what conditions?' Intelligent Hyster lift truck design focuses on the driver environment in all applications, but this proves particularly important for efficiency and driver comfort in extreme and demanding operating conditions," Chris says.
One example is the wood supply chain, lift truck drivers may have to drive in reverse due to tall loads obscuring forward visibility. These operations can be very uncomfortable if the design of the driver environment doesn't account for it.
The shape of the rear of the truck, including the position of the exhaust stack, can affect visibility, while the seat needs to minimise body rotation to accommodate reversing. The Hyster H13XM-6 is a typical lift truck used in the wood industry and addresses these challenges. With a clever rear design and the option of a swivel seat that turns 15/30 degrees, it aims to provide maximum comfort for the driver when driving in reverse. Depending on the application needs, Hyster Europe can also fit lift trucks with full rotating seats and drivers can be further assisted by camera systems.
In addition, TouchPoint mini-lever controls help reduce awkward shoulder and arm postures by locating the hydraulic functions directly at the driver's finger tips. This maintains driver comfort and helps the driver to focus on reversing.
Construction materials handling
The Hyster H8-16XM range was recently updated with a completely new mast and carriage giving fast attachment exchange as well as optimum visibility of the forks, the attachment, and the load. With enhanced visibility, handling and transportation is simple and comfortable for the operator.
"Now, operators can look through and over the carriage which helps provide ideal levels of visibility for ground level and lorry bed height manoeuvres, commonly found in construction applications," Chris says. "There is now more space between mast channels giving enhanced visibility of the attachment and load, enhancing the driver's environment, and their efficiency."
For operators that need to change attachments quickly, the dual function sideshift and fork positioning carriage (DFSSFP) with hook type mounting (often referred to as Terminal West Style) allows for quick disconnect giving greater flexibility for handling different types of loads.
Metal handling

High shockload applications can negatively affect comfort for the driver. The Hyster H16XM-9 heavy-duty lift truck is commonly used in the metal handling industry thanks to its robust frame, mast and carriage, and wide drive axle that provides stability when handling loads at full capacity.
This rugged lift truck design helps reduce vibrations in the cab, and when combined with the full suspension seat, the driver can benefit from a comfortable ride for the duration of their entire shift. In fact, whole body vibration can be as low as .35 m/s2.
"It's often the small details that make a difference to drivers," says Chris. "For example, Hyster high capacity lift trucks are designed to make driver ingress and egress easier with lower effort."
"Plus, in foundry applications, for example, tinted windows can be used to help protect the driver's eyes from flashing and hot metals, while the HD air conditioning in the cab keeps the operator environment at a comfortable temperature and free from dust."
Ports and terminals

In operations where drivers are sat in the cab of a container handler for a long shift, comfort helps to aid productivity. The noise level in the operator environment is one important factor, although the noise may not always be from the engine.
"Often noise from the operation itself can affect driver comfort," says Chris. "That's why on Hyster container handlers there is the option for a soft-landing spreader to reduce the clunking noise from the metal containers."
Not only is this more pleasant for the driver, but it also reduces noise levels for neighbours surrounding inland terminal applications. This can enable longer hours of operation and, in turn, more productivity benefits.
Good upwards visibility and accurate control are also essential for providing the driver with a comfortable operating experience. The innovative spreader design on the Hyster H8XM-EC6 - H11XM-ECD9 range enables the operator to see the twistlocks or hooks in every load condition. Furthermore, features such as powered pile slope, automatic extend-retract of the spreader, auto throttle-up and true inching allow for safe, accurate and smooth positioning of containers, even when working up to 9 high.
Cameras, work lights and either a raised cab or back tipping cab, as well as many other features, can also assist the driver, depending on the needs of the specific operation.
The Hyster RS46 ReachStacker can also be specified with a hinged elevating cabin option to optimise visibility and improve comfort for the operator. With the new 'hinged' elevating cabin, the Hyster RS46 offers direct visibility of 2nd rail containers even when there is a high cube container on a railcar in the first rail position.
"The new moveable cab is raised and lowered smoothly on a hinged arm and the speed can be adjusted," says Chris. "With fewer components, as well as reduced sideways movement, shock and vibration when driving, the cab offers an optimal ergonomic driver environment." An optional tilt of up to 10° can also be added to help make handling high stacks even more comfortable for the operator.
Paper Industry

In the paper supply chain, it is common to handle large, expensive and fragile paper reels using giant clamps.
"It's important for drivers in paper applications to use trucks and attachments that not only minimise the risk of damage, but also optimise speed and performance," says Chris. "However, this should not be at the expense of driver comfort."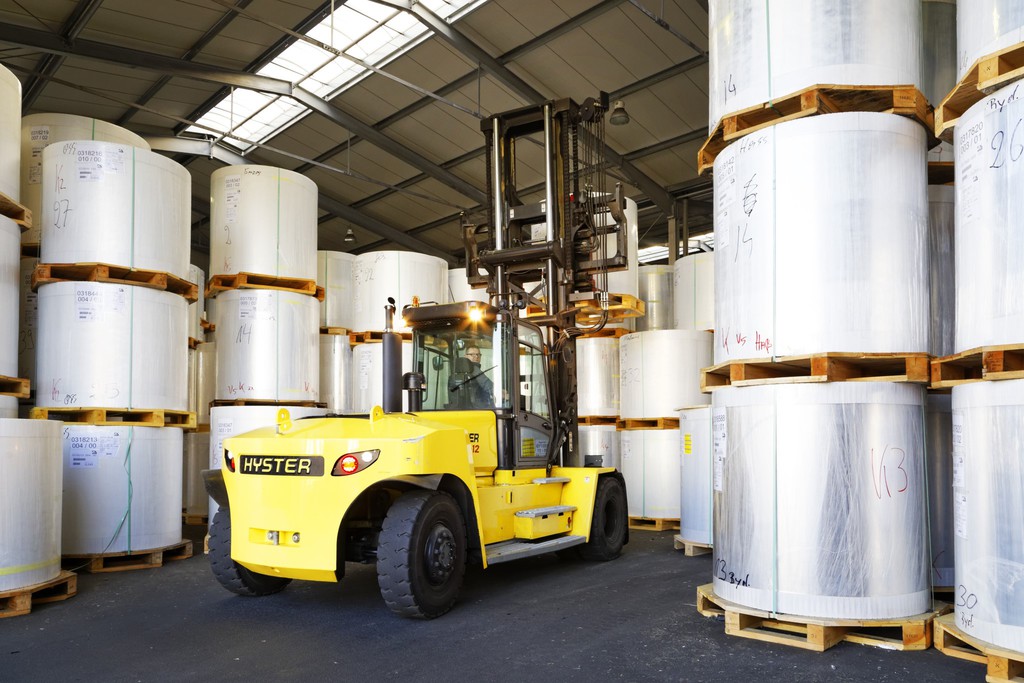 A popular truck is the Hyster S9.0FT which gives a 9-tonne lift on a 7-tonne chassis footprint, providing the instant advantages of added space and manoeuvrability during handling. The truck also offers a spacious driver environment, thanks to the design of the overhead guard and optimised floorspace in the operator cabin.
The truck's isolated drivetrain minimises the effects of powertrain vibration on the driver, while features such as ergonomically designed hydraulic controls, a contoured arm rest and a multi-function joystick also help to ensure comfort as well as lifting and handling accuracy.
"Lift truck driver comfort is about far more than having some general 'ergonomic' features within the cab," says Chris. "The best way to optimise the driver environment, even in the toughest operating conditions, is to select an intelligently designed heavy-duty lift truck with standard and additional features that meet both the demands of the application, and the needs of the driver."

OTHER ARTICLES IN THIS SECTION