ARTICLE
Electric multidirectional sideloader upgraded
09 November 2018
Hubtex has upgraded its MaxX range of vehicles, offering greater visibility and longer operational working hours.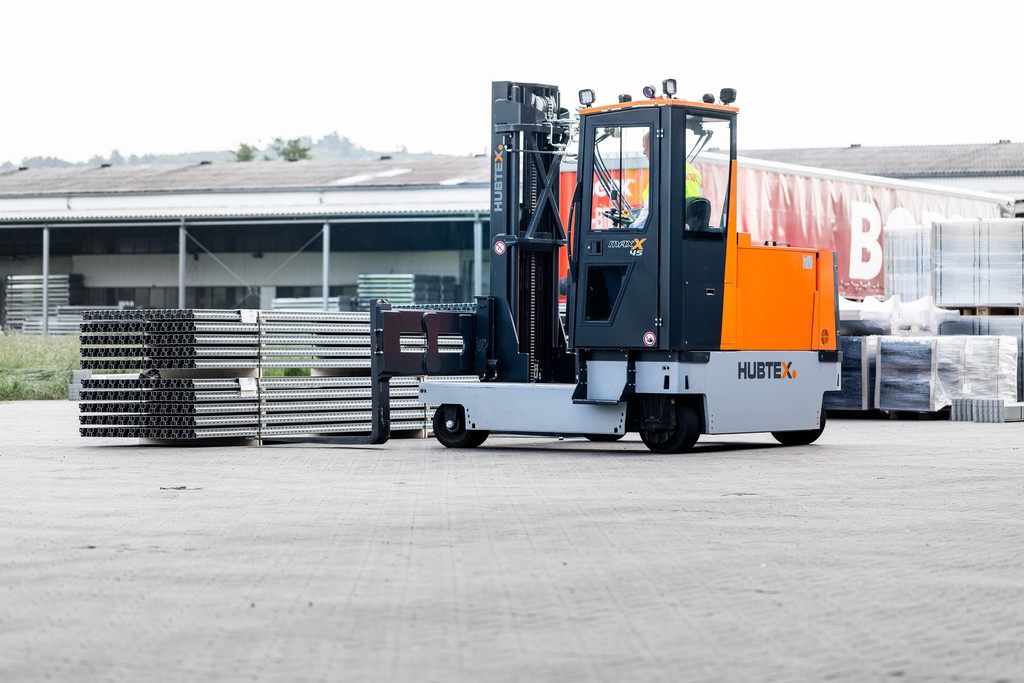 The vehicle is available with a range of different sized batteries, enabling users to find the right balance for medium and long-term deployments. The four-wheel chassis ensures tight turning circles, while the dual castor load wheel design reduces tyres against wear and tear. With an entry-level price point, the multidirectional sideloader is primarily used for handling long goods in narrow aisles.
The MaxX is suited for combined indoor and outdoor use. The vehicle features an ergonomically designed offering generous legroom and a user-friendly HIT3 multifunction display, while a range of additional components assist with handling of long loads.
The specially designed clear view mast, for instance, is said to offer the driver perfect visibility in front of the vehicle. The new design sees the mast profiles installed closer together, significantly enhancing the driver's visibility beyond the mast from the cabin. One of the main benefits of this can be seen during the loading process, as driver visibility of the right hand fork has been substantially improved compared with the previous mast design.
The MaxX is available in three standard variants. In the 3000 kg load-capacity class, customers can choose between 775 and 930 ampere hours for the 48V drivetrain version. In the 4500 kg load-capacity class, two drivetrains are available: 48V and 80V. The 48V drivetrain with battery capacity of 930 Ah is a reliable choice for medium deployments. For longer deployments, the 80 V/620 Ah, 80 V/775 Ah and 80 V/930 Ah are more suitable options.
Customers can also opt for lithium-ion batteries.
With six lift masts available, each standard vehicle can be customised to meet the required application profile – with lifting heights of up to 7,500 mm. The MaxX is available with standardised loadbed widths of 1,000, 1,200 and 1,400mm.
If customers require other dimensions or load capacities, the electric multidirectional sideloader is configurable as part of a portfolio featuring 25 alternative series variants.
Customers have the option of the new HX steering system, a patented solution that enables the multidirectional sideloader to switch between forwards and sideways driving modes without stopping. The vehicles are equipped with elastic tyres as standard, and are therefore ideally suited for applications on different surfaces. In addition, the MaxX features a hydrolastic shock-absorbing suspension system for each of the vehicle's drive wheels, ensuring that the system design keeps the truck wheels in contact with the ground at all times.
OTHER ARTICLES IN THIS SECTION