ARTICLE
Miniclipper Logistics installs lightweight mobile platforms
14 May 2019
The installation of Thorworld kit helps the 3PL to maximise safety.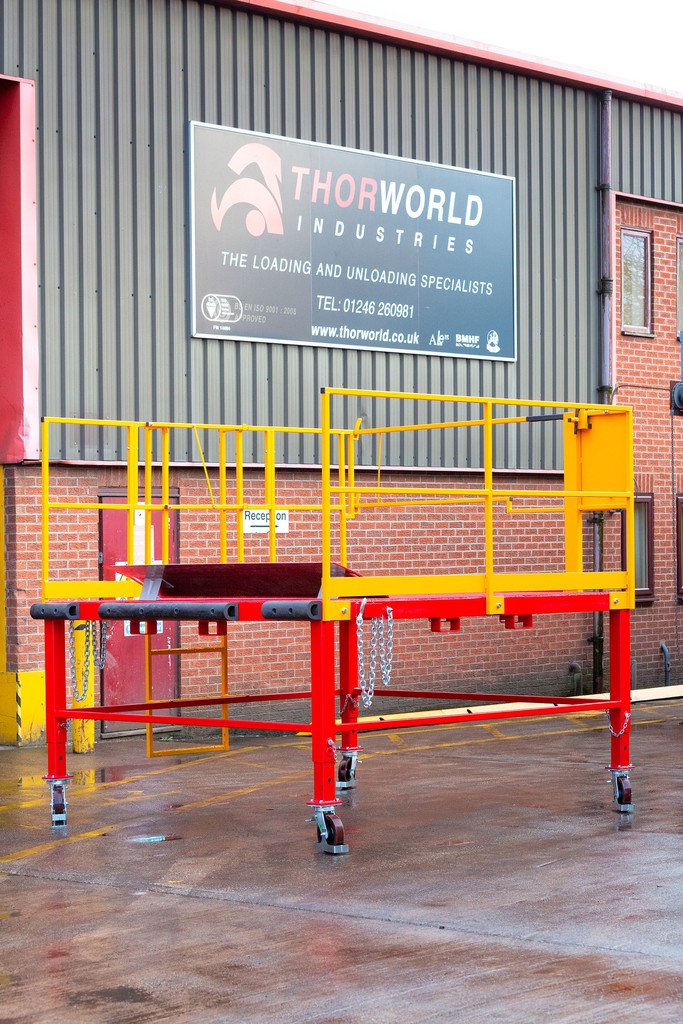 An approved pallet carrier for Sainsbury's, Amazon and Waitrose, Miniclipper Logistics has built its client capabilities considerably over recent years and has successfully evolved into a 24-hour operation.
Business growth has led Miniclipper Logistics to further demonstrate its high-principled safety standards, with the new Thorworld loading platforms representing the latest warehousing safety addition.
Miniclipper's Easter Avenue warehouse manager, Stuart Mellors said: "The past two years have seen us continue to secure contracts from larger customers, generating a progression that has prompted the evaluation of our warehouse loading processes. We needed solutions that would provide safe spaces for our operatives to palletise loose goods, in situ, enabling staff to prepare and pack a multitude of consignments ranging from electrical items through to prepacked long-life food products.
"Working at a raised level could increase the risk of accident, however the Thorworld platforms feature safe, secure physical elements; including railings, barriers and bridge plates, each designed to negate the risk of operatives, or heavy pallets falling. Not only do the platforms' heighten our safety protocols, but the equipment's stated load capacity rates help us to continually support our insurance requirements."
The apparatus supplied has been designed for use in conjunction with fork lift trucks. Pockets feature at the sides of the platforms to enable fork lift drivers to reposition with ease, while hinged barriers with gas springs allow for goods to be safely lowered onto / off the platform.
Other features include ladders with twin hinged barriers to the opening, height adjustable legs, heavy duty castors for easy movement, and chains, hooks and tensioning brackets to connect the platforms to vehicles.
Darmax
Having purchased the equipment through one of Thorworld's sales agents, Darmax UK Ltd., Stuart is of the opinion that, the process, from selection to installation has met entirely with his expectation of the Thorworld brand.
"We've been very pleased with the customer experience provided by James Corfield at Darmax. We reached a mutually beneficial agreement and have received two very high-quality products. James' strong communication capabilities and clear understanding of our requirements, have resulted in the supply of Thorworld platforms that had been scoped and spec'd to match our precise needs, enabling better working function and cost-saving results. Suffice to say, should our prerequisite for further loading bay solutions continue in the future, we would return to Thorworld Industries. Absolutely."
Miniclipper Logistics, the expanding haulage operation, comprising a distribution centre, 300,000 sq ft warehousing facility and a 40-strong articulated vehicle fleet, has further improved the health and safety element of its loading function with the installation of two purpose-built Thorworld Lightweight Mobile Platforms.
The platforms, which have been designed for use at the company's head office and Dunstable site, will deliver heightened loading safety practices, guard against operator accidents and increase loading and unloading efficiencies for the fast-growing transportation firm.
Equidistant between London and Birmingham, Bedfordshire based Miniclipper Logistics operates between several sites, each situated close to the M1. Together, the company's facilities and location, combined with professional standards and reputation enable it to attract clients from a broad spectrum of business sectors including retail, clothing, foods, raw materials, packaged chemicals and industrial products.
OTHER ARTICLES IN THIS SECTION