ARTICLE
Powered wheelbarrows transform operations
11 February 2019
J.B.V demolition is stripping out the Grade II listed India Building in the heart of Liverpool.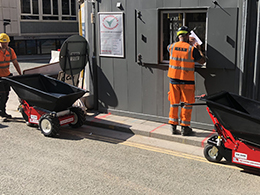 The sheer size of the building resulted in large quantities of debris needing to be transported long distances and then tipped into the waste chutes. The nature of a Grade II listing requires the windows to remain in place, meaning there was insufficient ventilation to use machinery with petrol or diesel engines as the exhaust fumes and noise would have been a health and safety risk.
J.B.V enlisted the Nu-Star MUV Electric Wheelbarrow – capable of hauling 350Kg for up to 8km on a single charge.
Rob Munro, JBV project manager and demolition engineer, says: "Introducing Nu-Star's Electric Wheelbarrow has transformed our on-site operations. We've been able to utilise our workforce more effectively, removing the debris could normally require a four man "traditional" wheelbarrow squad, but using two Electric Wheelbarrows controlled by two operatives not only reduced labour by 50%, but increased the payload by around 30/40% when transporting masonry/concrete debris at the same time. Furthermore there was no fatigue on the operatives because they don't have to push the barrow (especially when going up a ramp!) and they also don't need to take any load though their body, particularly their shoulders and arms."
Rob adds the powered tip functionality has been a god-send in regards to on-site health and safety.
Matt Smith, Nu-Star MD says: "Our MUV Electric Wheelbarrow is an ideal solution for the construction industry, with no exhaust fumes or handlebar vibrations our powered barrow is suitable for internal construction projects. With the rise in city centre redevelopment projects and the growing trend of residential basement development, we frequently sell and hire electric-powered wheelbarrows into this sector."
Awareness and action
For practical solutions to common safety problems, check out the Safer Logistics Zone at the Health & Safety Event, which takes place from April 9-11 at the NEC in Birmingham. Toyota Material Handling UK is the sponsor of Safer Logistics.
The seminar programme includes presentations on:
Driver Health: Asking the awkward questions
HGV drivers can face sleep, fatigue, drug, and alcohol problems among a wide range of driver health issues. This presentation gives managers the tools to develop a proactive approach to tackling the problem.
Andrew Drewary, road risk consultant, the Logistics Safety Forum of The Chartered Institute of Logistics & Transport (CILT)
The importance of taking responsibility for lifting equipment maintenance
The recent collapse of a crane at Falmouth docks was not a one-off, says the Lifting Equipment Engineers Association (LEEA). It shows the absolute necessity of implementing a strict maintenance regime for all logistics and industrial cranes and lifting equipment. Here, LEEA illustrates the importance of monitoring crane design working periods.
Ricardo German, Technical Assistant, The Lifting Equipment Engineers Association (LEEA)
Rack safety - can you afford to risk everything?
Cutting corners on rack safety can cost millions, a life, or your freedom.
Jonathan Bennett, chair SEMA Distributor Group, and Simon King, ex-chair of SEMA Distributor Group
Forklift accidents: 10 common causes, 1 recurring theme
Stuart Taylor breaks down ten common causes of forklift accidents and reveals the theme that links them all. You'll be given practical tips that can be easily applied on your site to significantly reduce the risk of accidents at a relatively low cost, keeping you compliant while retaining profitability.
Stuart Taylor, managing director of Mentor Training, on behalf of the Fork Lift Truck Association (FLTA)
Forklift training myths – are you wasting money?
RTITB discusses the common forklift training myths many employers are making which could be costing them money in unnecessary training. The discussion will identify where employers are wasting money on unnecessary operator training and explore when forklift training is essential to ensure that delegates leave with methods to achieve safety, compliance and reduced costs in their business.
Laura Nelson, Managing Director, RTITB
YOU CAN REGISTER FOR THE SHOW HERE
Toyota Material Handling UK is the sponsor of Safer Logistics.
OTHER ARTICLES IN THIS SECTION