ARTICLE
Ramp allows for safe loading
23 January 2019
Balmoral Tanks has installed bespoke loading dock equipment, designed and manufactured by Thorworld Industries.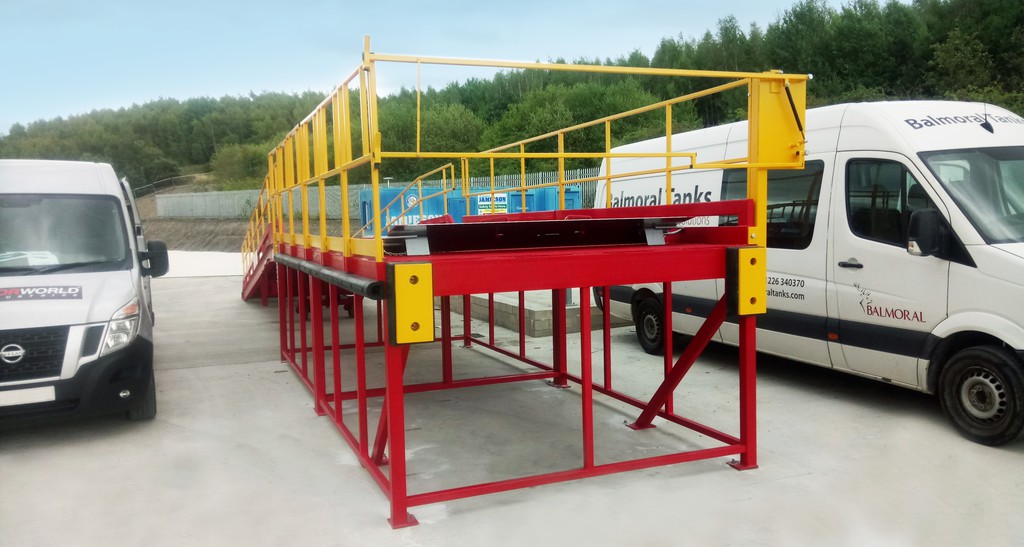 Its new site has been designed to be inclusive of a loading dock area, creating the opportunity to discontinue the company's need, and considerable associated costs, of involving a third-party loading provider
Balmoral Tank's operation's director, Bryan Bentley explains: "Prior to the site relocation, we'd spent in the region of £125,000 over an 12-month period on third party loading services. Keen to reduce these transport loading costs, we ensured the design of our new premises would include space for a loading operation.
A considered assessment of the loading space available led James Corfield, director at Darmax. to recommend a ramp and a modular dock system from Thorworld, that together would enable a flat access point for operatives to reach containers, with dimensions suitable for accommodating Balmoral's 3m x 1.5m by 400mm delivery boxes.
"The construction of Balmoral's tanks can involve assembly of up to 400 tank sheets, with each delivered in a separate, carefully packaged box," he explains.
"To enable Balmoral to continue achieving its meticulous delivery standards, we had to ensure the design of the new modular platform was large enough to safely accommodate the length of the load, as well as a fork lift truck. Removable barriers were also incorporated into the side of the platform, as the recommended loading technique involved using a forklift to bring individual loads out of the factory. This allowed loads to be placed onto the side of the platform, before the vehicle's forks are safely removed. The method has enabled Balmoral's drivers to access the ramp from the factory floor, so driving up the ramp without a projecting load, prior to lifting the load forward, into the container."
OTHER ARTICLES IN THIS SECTION