ARTICLE
Reducing waste in outer case labelling
05 March 2019
In self-adhesive labelling, the standard medium is a die cut label held on a siliconated liner, otherwise referred to as backing paper. There are no real viable options for recycling the backing paper.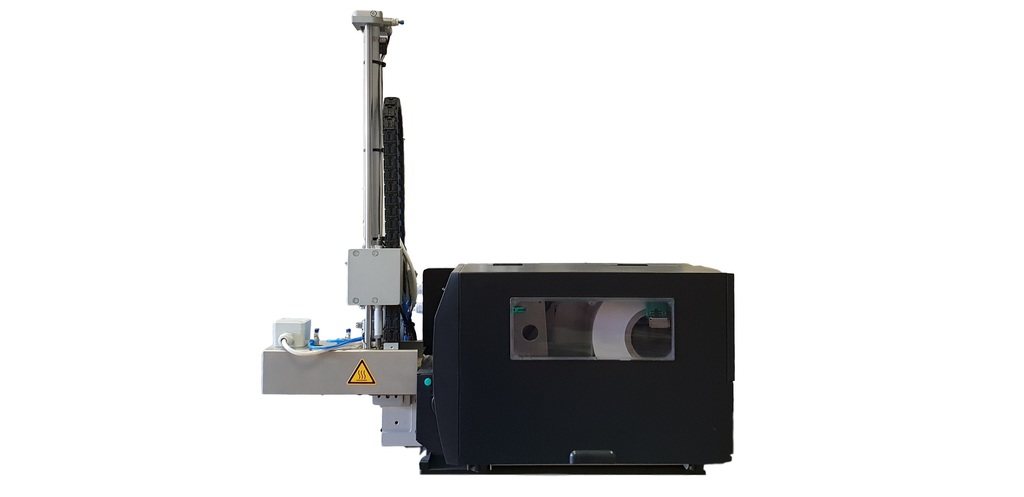 However, linerless labelling, which uses self-adhesive pressure-sensitive labels that have no liner or backing paper, is popular because more labels can be accommodated on each roll, reducing the need for roll changes and, since there is no liner or backing paper to dispose of, it produces less waste and, therefore, has lower environmental impact.
In spite of these important advantages, this type of labelling is often regarded as somewhat unpredictable in the print and apply sector as the adhesive based media is not ideally suited to the thermal transfer printing hardware.
Now however, RL Solutions and Toshiba TEC have joined forces and developed a new reliable linerless label applicator solution that works with heat-activation rather than pressure-sensitive adhesives.
PPMA Show demo
Demonstrated at this year's PPMA show, the new machines generated a high level of interest among the show's visitors, and are already helping RL Solutions to position itself as the go-to supplier for linerless labelling requirements.
Linerless labelling essentially involves a plain strip of adhesive tape. Information is printed on this tape using a thermal transfer printer, and the tape then passes to an applicator head that cuts it and applies the resulting label to the product. With the technology used traditionally, this process has been fraught with challenges.
"A major limitation of linerless labelling until now has been that pressure-sensitive adhesives have been used. As a result, using linerless label rolls has been rather like trying to run a large roll of sticky tape through your printer," said Lee Shroder, owner of RL Solutions. "The immediate challenge, which most currently available solutions have failed to solve, is to stop the tape sticking to the printer mechanism. Another problem is the large amount of downtime needed to remove tack residue from the machine. With these issues in mind, we decided to formulate a new approach by considering both the tape medium and the type of printer used."
RL Solutions started by looking for a low cost yet robust labelling machine that it could use for proof-of-concept of this new technology. The Toshiba APLEX4, an entry-level machine that can label up to 25 packs per minute, was chosen. The key innovation made by RL Solutions was to add a heated vacuum pad in the cutter area. After each label is cut, this pad picks it up and heats it to activate the adhesive, making it ready for easy tamp application.
Trials quickly showed that this novel machine would be suitable for warehousing, distribution, production and many other areas where there is a need to apply labels automatically to cartons, boxes or pallets.
The machine took eight months to develop and there were many challenges along the way. For example, the printer base plate had to be modified to accommodate the new cutter and heating arrangement, and extensive trials were needed to find the optimum temperature for activating the adhesive without degrading the ink used for printing.
The adhesive used with the new labelling machine is a hot-melt type that it is not activated until heated and therefore leaves no residue in the machine, which makes the machines much easier to clean and maintain. The approved linerless material, QuickSeal, consists of a paper substrate coated with the adhesive, which has no tack to the touch but still provides strong adhesion when activated. This allows standard printing hardware to be used, with no need for expensive and inconvenient modifications to the printing hardware.
As the labels are a paper-based material, there is no smudging or fading and the outstanding print clarity associated with thermal transfer printing is maintained. The new system also delivers the full benefits of linerless labelling – longer rolls, elimination of backing paper and, since fewer rolls are needed, a valuable reduction in the space required to store them.
No need for silicon backing paper
Furthermore, there is no requirement for additional label production operations that are often associated with the traditional label life-cycle. In particular, there is no need for silicon backing paper, adhesive and paper converting via jumbo roll, and no warehousing of rolls between customer jobs – all of which massively reduces the carbon footprint. The reduction in paper usage and a lower carbon footprint are essential environmental benefits in line with Toshiba's Carbon Zero scheme and overall green values.
"We are truly impressed with RL Solutions' ingenious design and we fully support this new linerless printing concept", enthused Jeremy Spencer, Toshiba TEC's Marketing Director. "The solution is efficient and reliable, solving a problem that's been around for years. And the ecological benefits are also considerable, as the paper usage is much lower, with no material waste going to landfill. The zero-tack medium delivers further improvements by increasing the lifespan of the machines, reducing wear and tear, and minimising the need for maintenance and costly downtime. RL Solutions is now the go-to supplier for all linerless printing requirements, and that's a fantastic result!"
OTHER ARTICLES IN THIS SECTION