ARTICLE
Royal Marines get a lift
09 April 2020
Stertil Koni has supplied a heavy duty vehicle lift to support a wide range of workshop operations at the Royal Marines' Stonehouse barracks in Plymouth.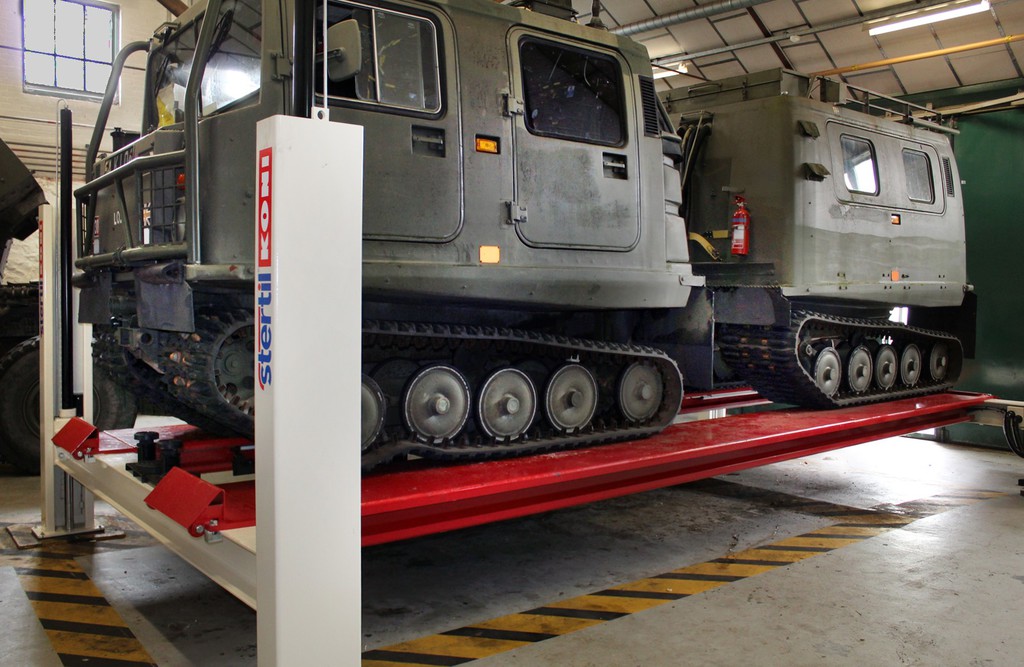 Used predominately to service, maintain and repair various types of personnel carriers, the Stertil Koni 4-post vehicle lift, model ST 4120, provides an impressive safe lifting capacity of 12 tonnes. The heavy duty lift incorporates a pair of six metre long platforms which enable both wheeled and tracked vehicles to be accommodated. To enhance this versatility even further, workshop engineers are able to easily adjust the space between the platforms from 800mm up to 1650mm. These platforms provide an extremely low drive-on height thereby ensuring suitability for low ground clearance vehicles.
Driven rams are located at the four corner posts and all are electronically synchronised to guarantee safe and smooth operation. Importantly, the operational unit containing the control box and hydraulic pump can be positioned conveniently on any of the lift's four posts to simplify operation, maintenance and inspection. Also, an independent gravity-operated locking mechanism prevents unintentional lowering of the lift's platforms.
"Our ST 4120 is suitable for a wide range of vehicles from urban trucks, vans and buses to heavy duty commercial vehicles," says Tony Edge, general manager of Stertil Koni. "This versatility is the secret behind its popularity with workshops across a vast range of industries and, of course, Her Majesty's Armed Forces."
Tony Edge
01604 662049
lifts@stertil.co.uk
www.stertilkoni.co.uk
OTHER ARTICLES IN THIS SECTION