ARTICLE
Safety barriers - ready for impact
14 January 2019
The aim of the game in a warehouse environment is to achieve a risk-free workplace, although completing this particular game is harder than you think, says protective barrier supplier Boplan.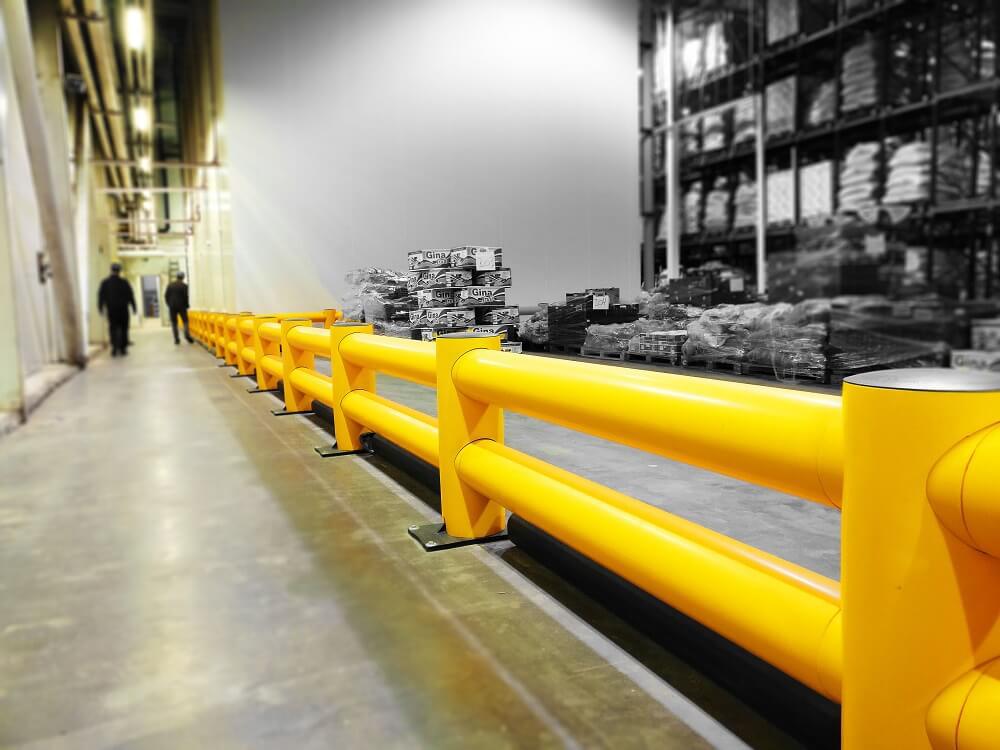 It is incredibly easy as the working day goes on that your staff's physical awareness of their surroundings diminishes slightly. This can be all it takes for an accident to occur. It may include failure to hear the reversing sound of a forklift or even the sound of the fire alarm. It is pivotal that your staff are constantly alert as to where they are and where danger might be lurking.
One of the main advantages of implementing safety barriers in the workplace is to reduce any possible damage towards your vehicular fleet. A lack of protection towards your forklifts, trucks and flatbeds could result in costly damages. It only takes a split second of carelessness from a vehicle operator for an accident to occur.
In the unfortunate event of a collision, a safety barrier will dramatically lower the risk of physical injury, expansive damage to the vehicle and anything, or anyone, it may come into contact with. However, if you have a traditional steel barrier, the vehicle will succumb to excessive damage.
Awareness and action
For practical solutions to common safety problems, check out the Safer Logistics Zone at the Health & Safety Event, which takes place from April 9-11 at the NEC in Birmingham. Toyota Material Handling UK is the sponsor of Safer Logistics.
The seminar programme includes presentations on:
Driver Health: Asking the awkward questions
HGV drivers can face sleep, fatigue, drug, and alcohol problems among a wide range of driver health issues. This presentation gives managers the tools to develop a proactive approach to tackling the problem.
Andrew Drewary, road risk consultant, the Logistics Safety Forum of The Chartered Institute of Logistics & Transport (CILT)
The importance of taking responsibility for lifting equipment maintenance
The recent collapse of a crane at Falmouth docks was not a one-off, says the Lifting Equipment Engineers Association (LEEA). It shows the absolute necessity of implementing a strict maintenance regime for all logistics and industrial cranes and lifting equipment. Here, LEEA illustrates the importance of monitoring crane design working periods.
Ricardo German, Technical Assistant, The Lifting Equipment Engineers Association (LEEA)
Rack safety - can you afford to risk everything?
Cutting corners on rack safety can cost millions, a life, or your freedom.
Jonathan Bennett, chair SEMA Distributor Group, and Simon King, ex-chair of SEMA Distributor Group
Forklift accidents: 10 common causes, 1 recurring theme
Stuart Taylor breaks down ten common causes of forklift accidents and reveals the theme that links them all. You'll be given practical tips that can be easily applied on your site to significantly reduce the risk of accidents at a relatively low cost, keeping you compliant while retaining profitability.
Stuart Taylor, managing director of Mentor Training, on behalf of the Fork Lift Truck Association (FLTA)
Forklift training myths – are you wasting money?
RTITB discusses the common forklift training myths many employers are making which could be costing them money in unnecessary training. The discussion will identify where employers are wasting money on unnecessary operator training and explore when forklift training is essential to ensure that delegates leave with methods to achieve safety, compliance and reduced costs in their business.
Laura Nelson, Managing Director, RTITB
YOU CAN REGISTER FOR THE SHOW HERE
Toyota Material Handling UK is the sponsor of Safer Logistics.
OTHER ARTICLES IN THIS SECTION