ARTICLE
Savings for MAN Truck & Bus
11 February 2019
Ecolighting is MAN's preferred supplier and installer of LED lighting.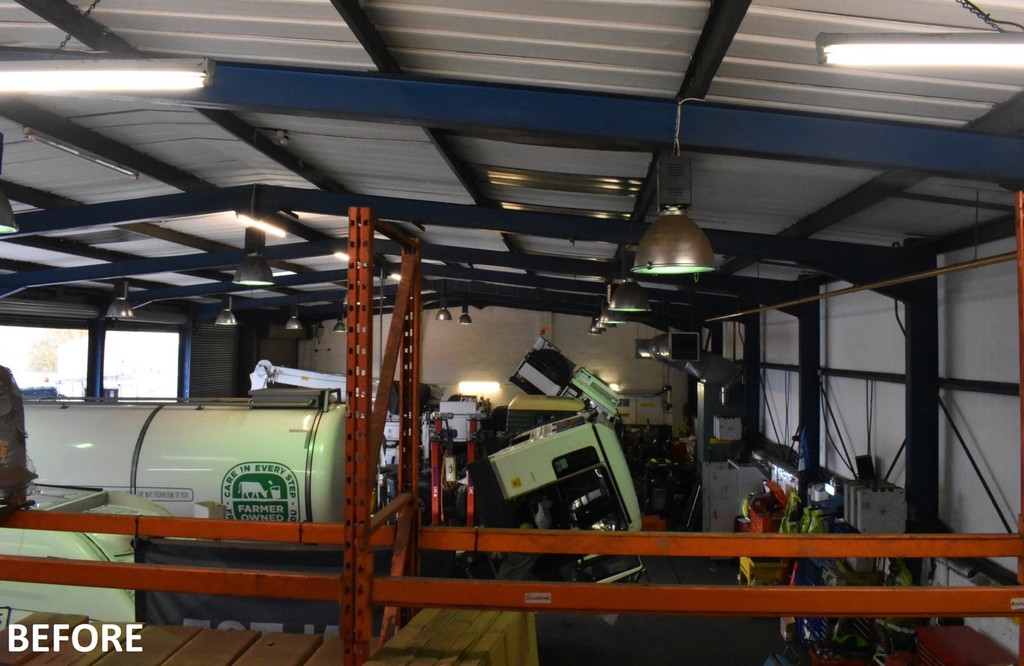 The Westbury site had previously been excluded from a 2015 upgrade plan. Three years on, the company contacted Ecolighting to update the lighting in the truck repair centre. The new luminaires will result in an annual saving of more than £5,000 in energy, replacement lamps, climate change levy reductions, maintenance and carbon credits.
Tracy Lister, property manager at MAN Truck & Bus UK, commented, "We have worked with Ecolighting for about three years and they have installed low energy luminaires into most of our branches. Westbury is one of the latter sites being updated, but we are already finding massive energy saving benefits at the sites using Ecolighting products. The installations have also enabled savings under the Government CRC Scheme, whereby we purchase our carbon allowances. As we use less energy we burn less carbon, so again another large saving."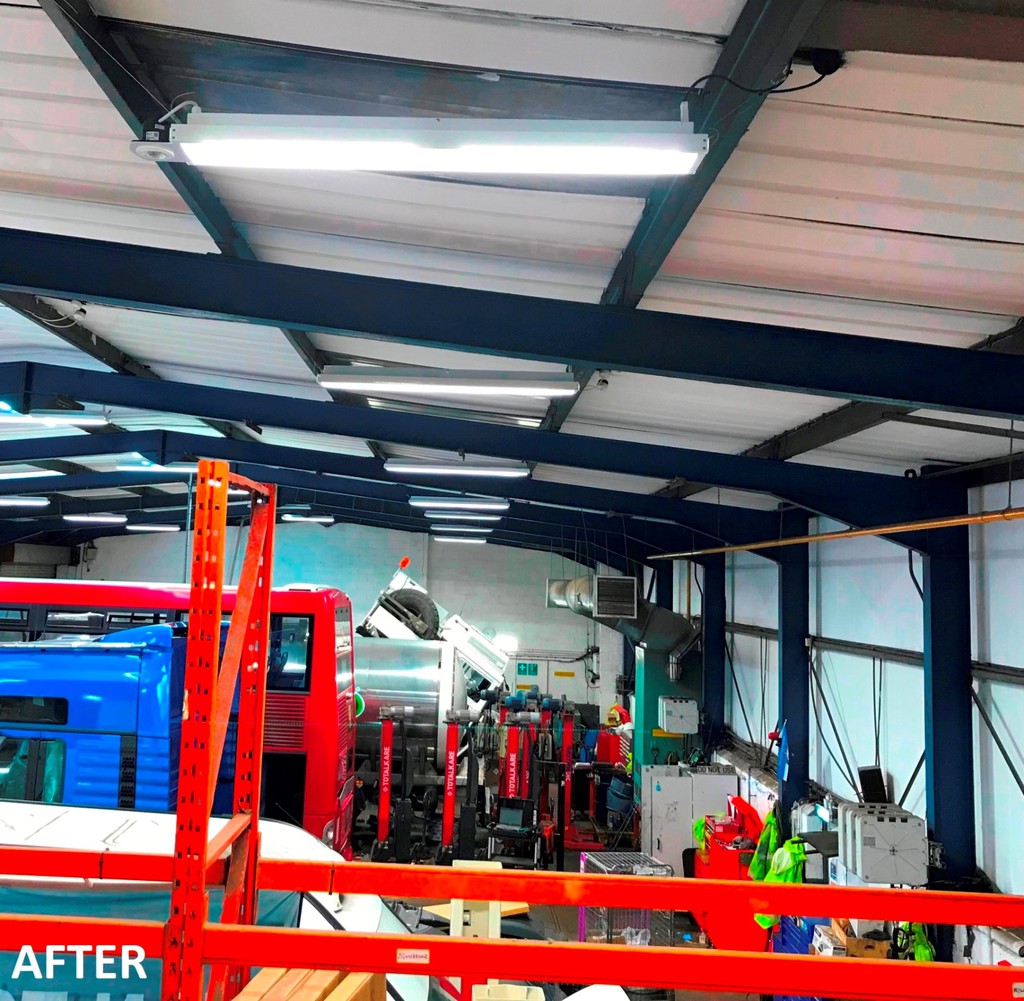 She continued: "I would definitely recommend Ecolighting to others. They have always been very supportive to our needs and carried out all installations without any disruption to the business. Their aftersales support is excellent and they are very quick to respond/attend to any requests. They have very friendly staff and nothing is too much trouble, no matter how large or small your company is I feel everyone is of equal importance to Ecolighting. We are very happy with the results hence the ongoing use of their services."
Chosen for the installation at the Westbury site are the Pegasus, Sapphire, DampProof, Surface Circular and Panel LEDs as well as Floodlight LEDs and the Medusa LED streetlight.
Used throughout the site's workshop areas is Ecolighting's compact Pegasus luminaire. Pegasus from Ecolighting is a top specification LED High Bay luminaire and one of the company's most popular light fittings. Encased in a robust yet lightweight and stylish aluminium body, Pegasus uses an Osram driver and top quality Osram LEDs giving 166 lumens per watt and up to 80% energy saving in installations. The sealed dustproof construction prevents access from insects and makes for easy cleaning. The Pegasus High Bay luminaire is used by Ecolighting frequently for a wide range of applications from industrial, warehouses, cold stores and manufacturing to sports halls and retail stores.
For the Westbury site's stores, workshop walls and lockers Ecolighting's Sapphire luminaire was chosen. Sapphire from Ecolighting is one of the company's most popular LED luminaires for use in commercial and industrial environments. Manufactured by Ecolighting in the UK, Sapphire features high output chip-on-board LEDs and OSRAM driver encased in a linear body with a polycarbonate diffuser, all rated IP54. The 1500mm length luminaire comes in four power ratings of 40w, 50w, 60w and 80w, with up to 9600 lumens, a colour temperature of 4000K and colour rendering of RA80. With lamp life of 50,000 hours, the Sapphire comes with a five-year warranty.
The company's reception, canteen, washroom and pits required a damp proof luminaire. The DampProof LED is a uniform light with a wide beam angle that ensures energy savings of up to 50%. With an efficacy of 115 lumens per watt, the DampProof LED has a luminous flux of up to 6,400 lm and is available with a colour temperature of 4,000K or 6,500K. With IP65 protection, a beam angle of 180° and available in 21W, 30W, 39W and 55W, the luminaires also have a lifespan of up to 50,000 hours.
All of the Westbury site's office areas are fitted with indoor LED ceiling panel luminaires. These are ideal for use as a direct replacement for luminaires with 4 x 18 W or 4 x14 W fluorescent lamps and for lighting conference rooms, reception areas, foyers and recessed ceiling systems with grid size of 600 x 600 mm. The Panel LED ensures energy savings of up to 50% compared to conventional luminaires and is designed with a very slim aluminium housing and matt white frame. Its external driver for extended flexibility is quick to install and comes with a five-year guarantee. The Panel's luminaire efficacy is up to 110 lumens per watt, comes with a luminous flux of up to 4,000 lm and is available with colour temperature of 3,000K, 4,000K and 6,500K.
For the outside yard areas at Man, Truck & Bus UK, LED floodlights and the Medusa amenity lights were selected. Perfect as a replacement for floodlights with halogen lamps, the LED Floodlight is suited to applications in garages, public areas, building facades and construction areas. With energy savings of up to 90% compared to halogen lamp floodlights, the frosted tempered glass cover for uniform illumination offers IP65 protection and a luminaire efficacy of up to 110 lumens per watt. The 135W LED Floodlight comes with a mounting bracket for up to 180° tilting and is available with a colour temperature of 4,000K and a luminous flux of 15000 lm.
Ideal for use in streets, security, car parks and building exteriors, the Medusa luminaire provides huge cost savings and makes a substantial difference to energy bills. By using top quality LEDs in Medusa, Ecolighting ensures high thermal conductivity, minimal light decay, pure light, very stable performance and a 50,000-hour lifespan. As a result, Ecolighting is able to offer a 10-year conditional guarantee with optional photocell control and a pre-programmed dimming cycle for smaller projects.
OTHER ARTICLES IN THIS SECTION