ARTICLE
Space for greater product diversity
12 June 2019
A difficult location did not stop OHRA providing a storage solution for a building firm.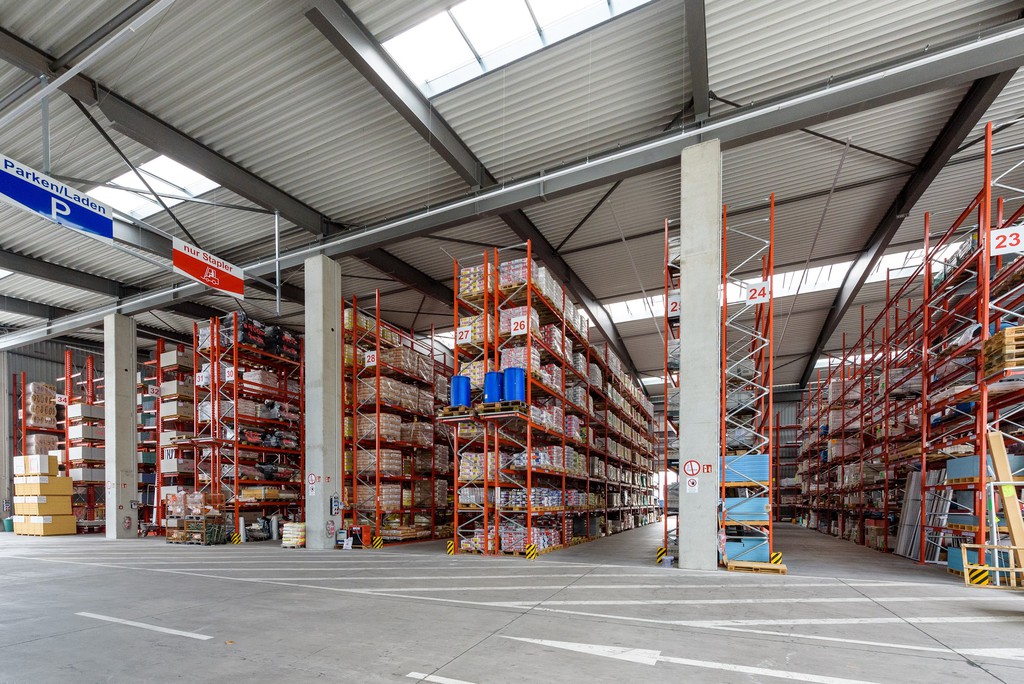 Building firm Götz + Moriz invested in larger storage spaces and a new warehouse, which has been furnished with pallet and cantilever racking by OHRA. The site posed several challenges for the rack construction: Some of the racking had to be constructed down a slope, other parts of it had to allow for wind forces, and the seismic zone 3 had to be factored in for all of it. Despite this, the stable construction of the OHRA racking has enabled the implementation of frame heights of up to 9,100 millimetres with bay loads of 25,200 kilograms and beam loads of 5,000 kilograms.
In 2016, Götz + Moriz decided to expand the existing centre for construction and modernisation in Lörrach, the second largest of the company's eight sites. The purpose of this expansion was to create more space for greater product diversity, to enable better customer service and to implement more efficient logistic processes. Before the expansion, the goods were often stored at floor level, in block storage and on platforms. Available racks were relatively low and offered only limited weight-bearing capacity.
Because Lörrach is in a seismic zone 3, the framework and footplates of the new racking by OHRA have been calculated so that they can carry the additional loads safely. The fact that all the load-bearing parts of the OHRA racks have been manufactured in hot-rolled steel profiles and not sheet metal profiles gives them an inherently high load-bearing capacity. In addition, the uprights will not buckle under lateral strain, even if touched by a forklift truck. Since several of the runs of racking in the outside area are located on a slope, the OHRA experts also designed pallet racks, mounted in stepped layers. Special spacer plates between the racking feet and the mounting plates on the floor, level out additional height differences. The racking in the warehouse, open at one end required a greater calculation effort since an opening of more than 30% on one side of the warehouse meant that wind forces had to be included in the calculation.
The new racking installations allow Götz + Moriz to offer their customers at the Lörrach site a significantly broader and deeper stock assortment, and to stagger delivery and collection better thanks to the surface areas liberated. Covered loading and unloading areas and shorter waiting times are additional advantages for customers.
OTHER ARTICLES IN THIS SECTION