ARTICLE
Swisslog recognised
12 June 2019
Swisslog has been named MHE Supplier of the Year at the Logistics Middle East Awards.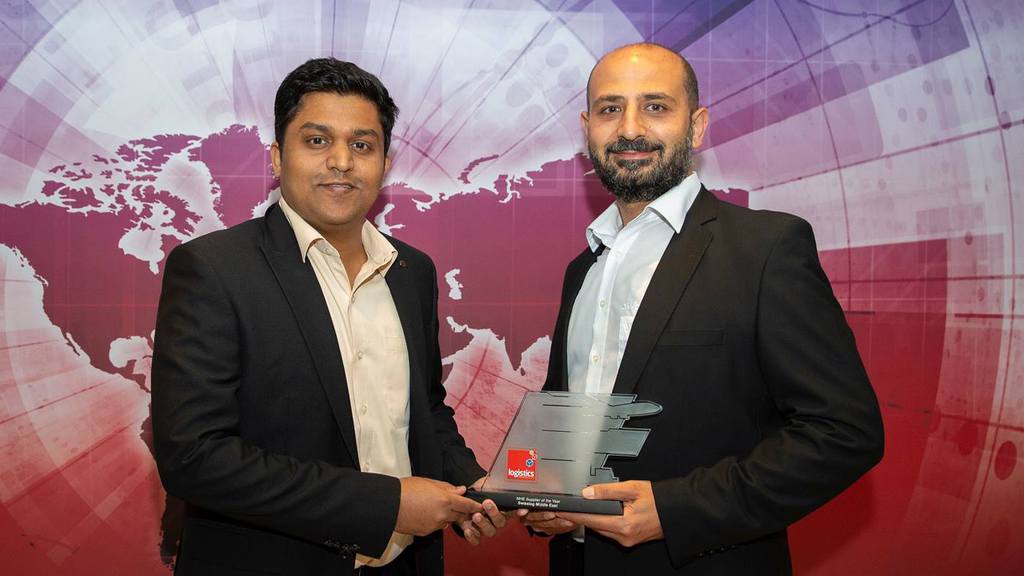 Commenting on the win Alain Kaddoum, general manager for Swisslog Middle East said: "We are extremely honoured to be named MHE Supplier of the Year at the Logistics ME awards. This award is a testament to our relentless focus on quality and practicality. At Swisslog, we are dedicated to finding a customized solution to improve our customers' operations and help them future-proof their business. Drawing on our 100-year heritage of innovation and creativity, we are committed to providing companies with options that meet all levels of automation and storage handling needs."
Sri Aravindhan (left) & John Sassine (middle) from Swisslog Middle East are happy to receive the award.
The Logistics Middle East Awards are a celebration of excellence for the great and the good of the supply chain and logistics communities in the Middle East. The 2019 awards focused on companies and individuals working for logistics and transport companies in the Middle East and highlighted industry players that have contributed the most towards the success of the logistics sector in what has been a challenging year.
Swisslog has a proven track record of working with brands across various verticals, including Almarai, Mai Dubai, Central Bank of Kuwait and Axiom Telecom regionally and PepsiCo, Coca-Cola, Roche, Target, Fossil, ASDA and Wal-Mart globally. Its MHE solutions are manufactured using a stringent design and testing process and the company has an entire Research and Development department committed to ensuring solutions meet market requirements.
The company employs more than 2,900 people worldwide. Since its inception in the region, the Middle East team has grown steadily in size year-on-year and plays a critical role in supporting Swisslog's continual growth strategy and in driving its leadership position in automated intralogistics solutions throughout the region.
OTHER ARTICLES IN THIS SECTION