ARTICLE
easyPILOT Follow promises faster order picking
01 July 2018
Jungheinrich has presented a new remote control unit for the low level order pickers of its ECE family. easyPILOT Follow is a semi-automated control unit that allows the ECE to follow its operator automatically.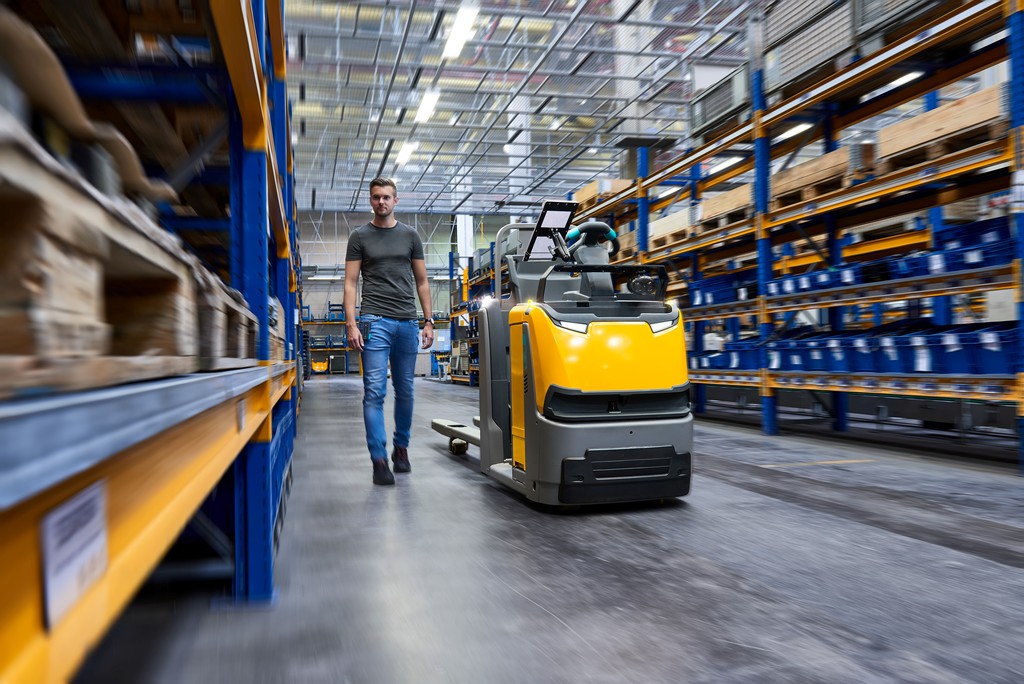 The operator wears a control unit or carries it in a pocket or on a belt, so that full focus can be on the picking process.
The ECE connected with the control unit positions itself exactly so that the goods can be set down at the right place on the fork. The truck is always where it is needed at the picking location, following the operator as they move forward and stopping with accuracy. This eliminates the need for time-consuming ascent and descent of the vehicle, as well as extended distances walking from the picking place to the truck.
In this way easyPILOT Follow enables error-free order picking processes and maximum efficiency in the warehouse. Thanks to UWB wireless technology, there is a reliable connection between the operator and the truck, which eliminates failure of the truck to respond due to visual obstacles or other sources of interference. easyPILOT Follow can be used on all Jungheinrich low level order pickers and the remote solution is easy to retrofit for any ECE with easyPILOT preparation.
easyPILOT Follow is also an effective means for increasing safety in the warehouse. A remote control option equipped with modern laser scanners continuously checks the area in front of the truck. This allows for safe and reliable navigation and positioning in rack aisles. If the scanners detect an obstacle the truck stops.
Steve Richmond, director – logistics systems, Jungheinrich UK, concludes: "In its own right, the Jungheinrich ECE series is the market leader among horizontal order pickers, made even more efficient with the addition of easyPILOT remote solutions. Combined with these smart features, operators can improve hourly pick rate by as much as 30 per cent using an ECE order picker, while the introduction of easyPILOT Follow provides opportunities to further optimise picking result."
OTHER ARTICLES IN THIS SECTION