ARTICLE
Reliable forklifts
16 January 2019
Rapidly loading 100 tonnes of premium stone – while preventing damage to the valuable cargo – is no mean feat. Doing it without reliable forklifts is virtually impossible. Essex-based logistics specialist SLi turned to Mitsubishi GRENDiA trucks, supplied by Bronze Mechanical Handling.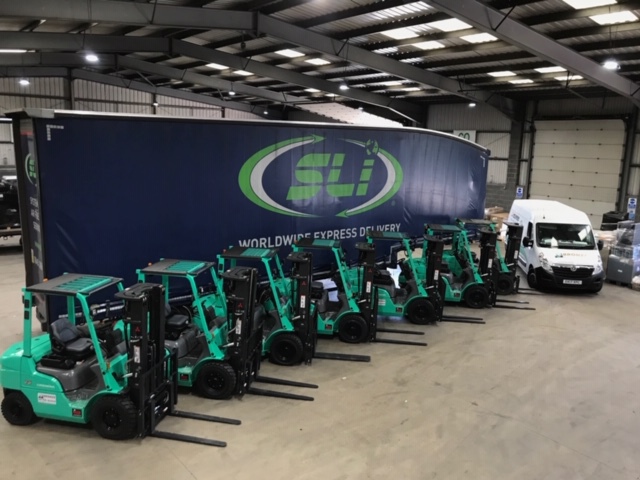 SLi's ageing, mixed-marque fleet had begun to cause fleet manager Russell Cox sleepless nights.
The new trucks would need to be strong enough to confidently handle two one-tonne pallets of stone, work reliably for long hours, and – importantly – carry the valuable cargo safely to tougher terrain at the rear of the SLi site.
Russell says: "Outside, it's very rough terrain. The hardcore is wet and loose in the winter, and in the summer it's hard and uneven, with aggressive dust. So the forklifts have their work cut out to keep the pallets in good condition, and deliver all year round.
"But we're moving the highest quality granite, flint and quartz – the kind of thing you see on restaurant walls – so protecting that is important. A broken pallet is a pricey thing to have."
SLi contacted Bronze Mechanical Handling. Managing director Joe Bronze visited the site, and suggested that the two trucks for outdoor work would benefit from pneumatic tyres, and retrofitted hydraulic accumulators to protect the load – and the truck's components – from sudden shocks.
Russell agreed and, since switching to the new Mitsubishi forklifts Joe recommended, has noticed a marked decrease in pallet damage. And there was a further, unexpected bonus.
OTHER ARTICLES IN THIS SECTION