Yale Europe Materials Handling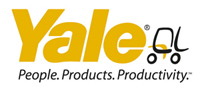 Yale Materials Handling has a 90 year unrivalled heritage in materials handling.
Personal Approach
Globally, Yale provides solutions for some of the world's most prestigious businesses in some of the most intensive applications and prides itself on its long lasting customer relationships. This has resulted in an understanding of customer's applications and the ability to provide solutions to meet their changing business needs.
Products that deliver solutions
All products undergo in-depth research and evaluation and are designed with two key goals in mind: to create the most comfortable working environment for the operator and to create features and performance that enable customers to increase throughput and productivity.
Yale ergonomic advances made in recent years are a combination of a focused approach and understanding customers' needs in their specific applications and industries. This knowledge is gained through ongoing customer evaluation and feedback and observing operators to understand how to improve efficiency, comfort and operational productivity.
Please CLICK HERE to view application case studies.
Find us on :

COMPANY CATEGORIES
1/3 (1 to 20 of 51)
3PLs
AGVs
Ancillaries
Automated handling
Automation
Chemicals & Pharma
Cold storage
Counterbalance
Distribution
Distribution
Electric Vehicles
Events
Fleet management
Food & drink
Forklift Truck Safety
Handbooks
Handling & Storing
Handling and Storing