ARTICLE
Design 4 Safety winners announced at IMHX
27 March 2013
The winners of the IMHX Design 4 Safety Awards have been announced in a ceremony on BITA's stand at IMHX, with Sentry Protection Products overall winner.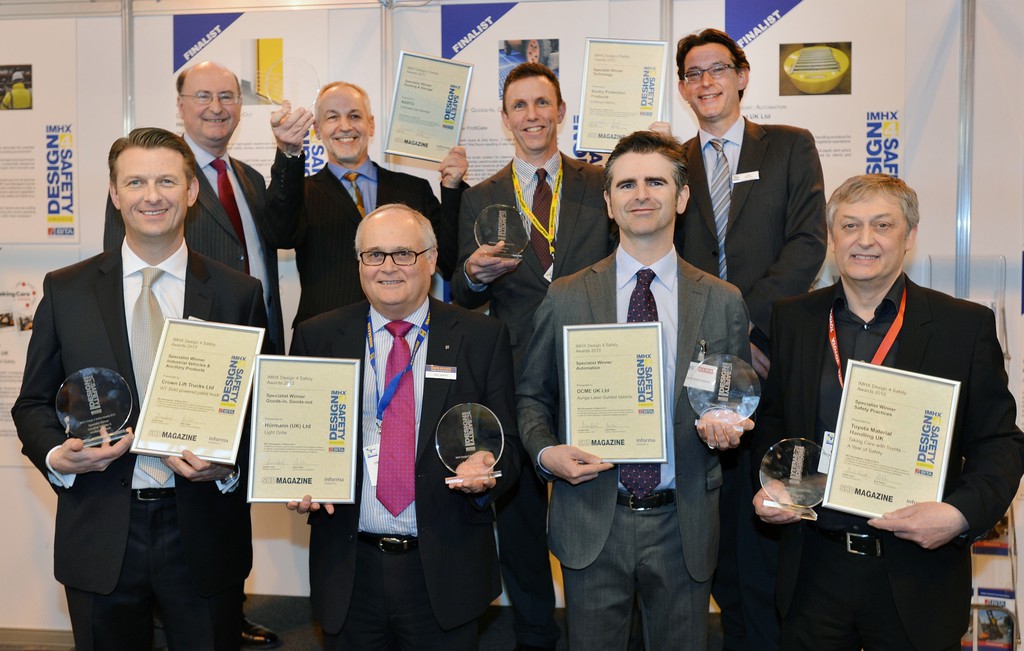 The Design 4 Safety Awards were chosen by a panel of experts, drawn from key areas of the materials handling industry, voted to elect three finalists in each category. A second vote voted determined the specialist winners.
Speaking at the event, James Clark, Secretary-General of BITA said: "The Design 4 Safety Awards highlight the importance of safety product design features in helping to ensure safe materials handling operations. This year we expanded the number of categories in recognition of the sheer range of different technologies and product areas that now work together in materials handling workplaces. We were delighted with the number of entries we received and the breadth of safety innovation they represented across the industry. Congratulations to all the winners, each of whom has made an important contribution to safety in the workplace."
Judges' citations for the Specialist Winners
AUTOMATION – OCME Auriga Laser Guided Vehicle
The OCME Auriga LGV offers all round protection that minimises the potential to strike pedestrians. This class of vehicle typically works in busy warehouses with high throughput, a working environment with an increased risk of these "struck-by" accidents, which remain a perennial concern for safety practitioners. The onboard laser scanning sensing device acts as secondary "eyes" to sense obstacles posing a collision risk, including pedestrians, and stop the vehicle. This feature will be of particular benefit in warehouses, which contain a large number of blind spots.
GOODS-IN, GOODS-OUT – Hörmann Light Grille
The Hörmann Light Grille uses an array of light beams to help ensure the safe operation of high-speed doors. The system prevents the door closing if any of the beams are broken, protecting pedestrians from being struck by a closing door. The system's responsiveness also means that the door will react quickly when vehicles are approaching preventing collisions and damage to the door itself. The judges noted that this is the latest evolution of an existing safety practice and one that provides additional benefits. With fewer parts the waste stream is reduced and the need for maintenance limited.
INDUSTRIAL VEHICLES – Crown Lift Trucks WT 3040 rider powered pallet truck
The powered truck is a real workhorse and is therefore very heavily used in warehouses. Unfortunately, frequent use can often lead to bad habits creeping in such as operators driving across sites with their ankles over the side which risks the ankle being trapped or crushed. This can be a very serious injury involving a long time off work or even threatening the operator's career. This Crown truck makes a major contribution to improving safety by preventing operation with the ankle exposed. A secondary benefit is that vibration is controlled, helping to prevent injuries of a more chronic nature. Reducing vibration will also reduce fatigue and keep operators alert.
RACKING – KASTOunitower
This racking system is a major step forward as it creates a safe discipline for handling bar stock which involves no manual handling or slinging. Bar stock is one of those nightmare materials to handle safely, not only because of the length of it but also because of the difficulty of storing and moving it. An efficient process is essential and the major safety benefit here is that KASTO has minimised the opportunity for individuals to come into contact with the actual work. The system dictates that there is only one way to handle the bar stock which creates a safer and more efficient process.
SAFETY PRACTICES – Taking Care with Toyota - A Year of Safety
What excited the judges about Toyota's entry was that it demonstrated thinking that went beyond their own employees or product. Rather than being than insular, Toyota sought to raise awareness of a critically important subject – the need to keep people tuned into training and reinforcing that managers have responsibility not just operators. There are clear benefits when operators are well versed with best practice as they extract better performance from their trucks and also improved safety.
TECHNOLOGY – Collision Sentry
Collision Sentry is a great product that increases blind corner safety by giving an early indication of hazards round the corner. This allows operators to simply concentrate on operating the machine. As well as being inexpensive, one of the major attractions of Collision Sentry is that it is quick and easy to install – there is no need for someone to come in and make an assessment as you can do it yourself. It provides a fantastic illustration of the fact that sometimes the best innovations are those that are the most simple.
Full list of shortlisted finalists
Automation
• KASTOunitower bar storage system
• OCME Auriga Laser Guided Vehicle
• Vanriet Pallet Conveyor Turntable
Goods-in, Goods-out
• Hörmann HFB Fork Truck Barrier
• Hörmann Light Grille
• Unisan CleanTrax
Industrial Vehicles & Ancillary Products
• B&B Attachments KAUP Conveyer Belt Forks (T180FG)
• Crown Lift Trucks WT 3040 rider powered pallet truck
• Linde Material Handling (UK) Pro Brake Hand Pallet Truck
Racking & Storage
• Gisco Storage Limited storage/picking bins & attached lid distribution containers
• KASTO internal and clad twin unitower
• QTS (Qube Transportation Supplies) easySHELF Wire Mesh Decking
Safety Practices
• H Varley Ltd Rotatruck
• Mentor FLT Training Limited Forklift Truck Managers' Course
• Toyota Material Handling UK Taking Care with Toyota - A Year of Safety
Technology
• Crown Lift Trucks WT 3040 rider powered pallet truck
• Sentry Protection Products Collision Sentry®
• Transmon Engineering iTEch Zone Control System
OTHER ARTICLES IN THIS SECTION