ARTICLE
Untrained voice solution
17 May 2013
Twenty operators at the Unilever Greece warehouse in Schimatari execute their order picking tasks with the help of Zetes' voice solution, 3iV Crystal.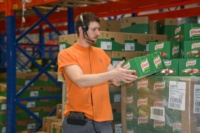 The solution was implemented in a one month time frame, including development of custom RFCs for direct integration with Unilever's ERP system.
Thanks to the 'untrained approach' and the adaptive dialogues, even inexperienced operators were up and running in no time. Operators no longer need to register a voice profile before getting to work, but they can start using the system immediately using their own language.
In addition, the system offers two types of voice dialogues, adapted to beginners or more experienced operators. Depending on their level of expertise, the operators will be guided by more or less explanatory instructions.
OTHER ARTICLES IN THIS SECTION