ARTICLE
Pedestrian stacker debuts
19 June 2013
The latest development in warehouse equipment design from Mitsubishi Forklift Trucks is an all-new pedestrian stacker series, AXIA ES, which promises exceptional productivity in every setting.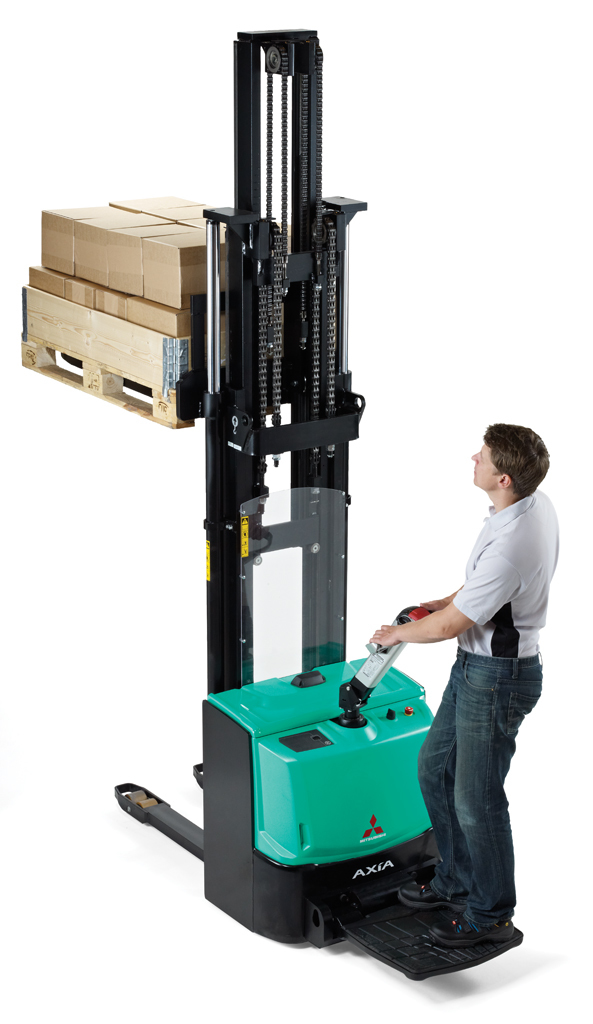 Its name, based on the word 'axis', has been chosen to reflect the truck's exceptional ability to turn and manoeuvre, even in the tightest of spaces. Mitsubishi describes AXIA as 'the all rounder', as its versatility – and the extensive choice of models – answers so many workplace needs.
With an extremely compact powerhead, a very narrow chassis, outstanding visibility and a user-friendly, state-of-the-art tiller arm, AXIA can be operated on board vehicles, in block stacking applications and in any other situation where space is limited. In such conditions, the operator can instantly switch the performance setting to safety mode to maintain sensible speeds.
Capacities of 1.0, 1.2, 1.4 and 1.6 tonnes are available. As well as lifting loads to heights of up to 5.4 metres, AXIA models will comfortably provide vertical transport for those loads over distances of 50 metres and beyond. For occasional longer distances, customers can specify a foldable ride-on platform on the 1.2 to 1.6 tonne stackers.
Initial lift models can be chosen, at each capacity between 1.2 and 1.6 tonnes, for workplaces with ramps or uneven floors. There is also a straddle leg version, for handling bottom-boarded pallets up to a width of 1200 mm.
OTHER ARTICLES IN THIS SECTION