ARTICLE
Mezzanine saves on relocation cost
17 July 2013
West Mercia Supplies (WMS) reconfigured the storage layout at its Shrewsbury facility introducing a 12,000 sq ft mezzanine floor structure which offers over 3,000 small parts storage bins.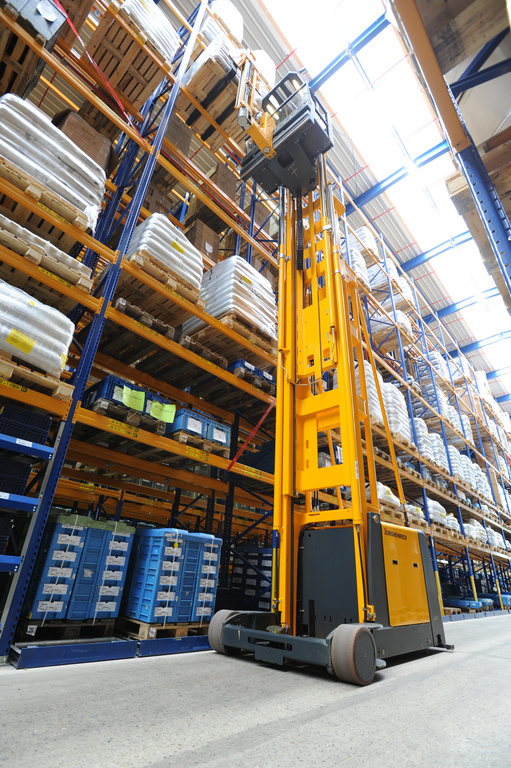 The addition of the mezzanine, supplied by Jungheinrich, allowed the education sector supplier to free up valuable ground level picking space with smaller items – such as pens, pencils etc – now held on the mezzanine and picked directly from the small parts storage bins.
"Before we had the mezzanine, all picking was done at ground level from shelving," explains WMS's assistant director, Jim Green. "The mezzanine has effectively freed up one third of the warehouse and we use the space below it for order consolidation."
The facility uses Jungheinrich wire-guided EKX Kombi trucks. Part of the trucks' role is to deliver replenishment stock from the bulk store directly to the mezzanine and Jungheinrich's engineers had to develop a design for the mezzanine's pallet gates through which stock is transferred to the raised platform.
Traditional mezzanine pallet gates open outwards but, in WMS's case, this would have meant that the gate protruded in to the aisles where the Kombi trucks are working – presenting a safety risk.
Jungheinrich's engineers developed 'up and over'-style pallet gates that allow clear unobstructed entry to the mezzanine and do not represent an obstacle to the trucks operating in the adjacent aisles.
"The design of the gates is very clever," adds Jim. "Jungheinrich's engineers spotted the problem that the traditional out-swinging gates would have caused and went away and came back with a brilliant solution.
"The warehouse redesign has proved extremely beneficial. The introduction of the mezzanine and our new bulk store layout has enabled us to make the most of our existing premises without the cost and inconvenience of a move to a new site."
OTHER ARTICLES IN THIS SECTION