ARTICLE
The right ingredient
01 September 2013
The Sheffield-based UK division of commercial kitchen equipment supplier, Manitowoc Foodservice, is using a fleet of five Aisle-Master articulated forklifts for diverse handling requirements in the manufacturing, warehousing and spare parts facilities on the site.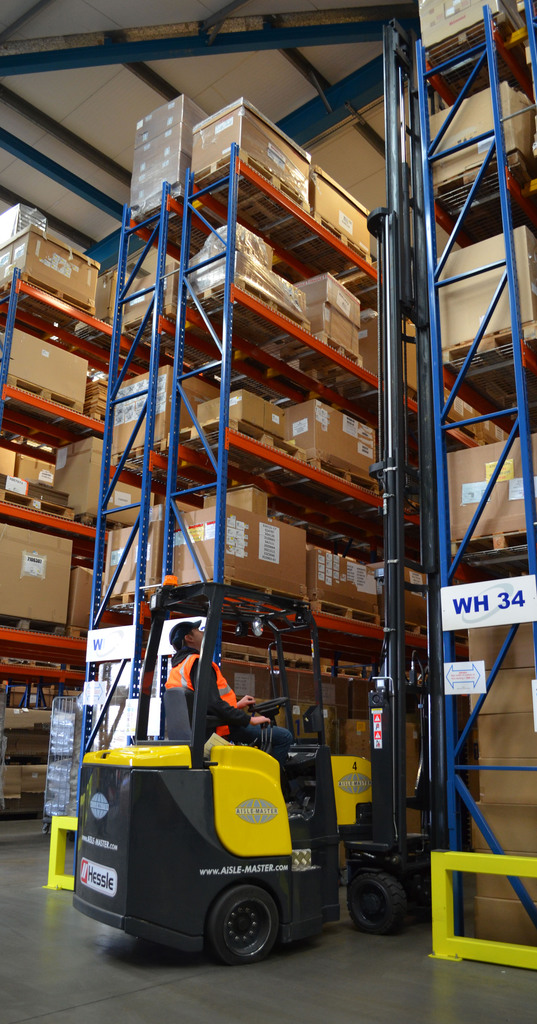 When the contract was up on an ageing articulated fleet, Warehouse and Value Stream Manager Craig Wilkins investigated alternatives to the previous trucks and looked into the capabilities of the Aisle-Master range following advice from Gary Hawkhead of Hessle Fork Trucks. "We trialed a number of brands but factors such as robust build and design quality and the Aisle-Master manufacturer's willingness to tailor aspects of the trucks to our individual requirements made it the only viable contender," says Craig.
As well as the ability to work indoors and out and in very narrow aisles, versatility and manoeuvrability are hallmarks of the Aisle-Master range and the trucks have proved to be universal fit for purpose machines across the board. One AM20SHE model works in the equipment side handling finished goods such as ovens, another two are in the goods in/out and line feed section, a further one is designated for the spares department and the fifth, fitted with a 1200mm wide carriage, moves palletised sheet metal around the fabricating shop.
"The drivers love the fact that they can access all areas with the Aisle-Masters with no restrictions," says Craig. "They do not need to change from one type of truck to another so they can load, drop down pallets, reload, and feed the production lines in a seamless operation. We have also been able to reduce our overall forklift fleet down from seven to six (there is also a counterbalance truck on site) which fits in well with our company's lean management strategy which aims to remove non value added equipment from the business."
The new style double mast mount unique to the Aisle-Master product offers excellent visibility and one of the benefits of full AC power is better battery efficiency for 50% more power per charge. High frequency chargers used by Manitowoc also reduce electricity consumption and lower the carbon footprint. A greater angle of articulation, high lift mast carriers and more stable lifting is also advantageous for drivers when placing and picking pallets to the top beam height of 7.5m in the narrow racking. Acceleration, deceleration, lift and driving speed is altogether quicker than the old trucks, contributing to enhanced productivity.
"Collaboration with ourselves, Hessle and Aisle-Master also resulted in the incorporation of a Fleet Management System which has been a great boost to operations as it lets us easily check who is driving which machine and monitor the carrying out of daily checks etc," adds Craig. "All involved in this project looked carefully at our remit - which included the wish to ergonomically adapt each truck to individual driver requirements by changing pedal sizes or fitting cameras for example - and came up with a customised solution which is serving us very well indeed."
OTHER ARTICLES IN THIS SECTION