ARTICLE
Driver machine partnership
09 June 2014
The latest addition to Mitsubishi Forklift Trucks's range of warehouse trucks, SENSiA, has been developed following a Europe-wide study among managers and operators of forklift trucks to pinpoint the key to optimum reach truck operations.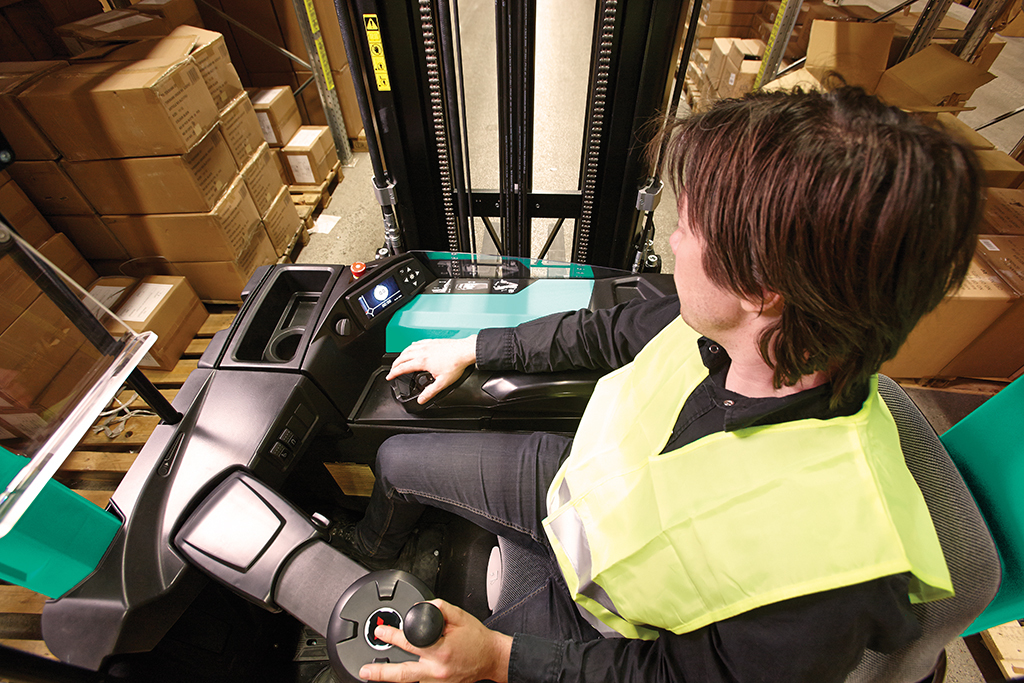 As a result the 11-strong family of reach trucks has been designed to achieve the closest possible partnership between driver and machine.
Lifting up to 13m, SENSiA features fingertip controls with modulated pressure that responds naturally to driver's touch. SENSiA has two settings as standard: ECO mode keeps power consumption low and is ideal for new operators or extended shifts; PRO mode provides more experienced operators with higher performance – ideal for peak periods in the warehouse.
Typically, reach truck operators will mount and dismount their vehicle up to 100 times a day. Addressing this SENSiA's low seating position (just 1030mm), ergonomic hand bars and a wide, no-slip step help reduce the effort required by operators. The adjustable steering console can be neatly folded away for even easier on/off access.
Inside, the truck's spacious cabin has been carefully considered with pedals that minimise ankle stress. Flexible adjustment of the ergonomic armrest and full suspension seat lets operators optimise their driving position.
The design of the cabin – together with VisionMast, which was pioneered by Mitsubishi – offers operators exceptional visibility of the forks and the load.
For applications requiring the lifting of valuable or fragile loads safely at height, SENSiA's Sensitive Drive System (SDS) ensures drive movements are seamless, while firm, progressive steering keeps trucks nimble in racking, while stable at speed.

Importantly, loads are inserted and removed from racking in the fastest possible time through Passive Sway Control, and Mitsubishi's award-winning Mitsubishi Active Sway Control – available as an option – which combine to dramatically reduce mast sway.

With lifting capacities ranging from 1400 to 2500kg, the new range comes in standard and high performance models and can be customised for a wide range of applications.
OTHER ARTICLES IN THIS SECTION