ARTICLE
Dust & waterproof weight indicator
03 September 2014
New from Avery Weigh-Tronix is an IP69K dust and waterproof weight indicator which is available in two variants: the ZM305 GTN Inbound-Outbound, intended for vehicle weighing; and the ZM305 Standard, a multi-purpose indicator with built-in applications.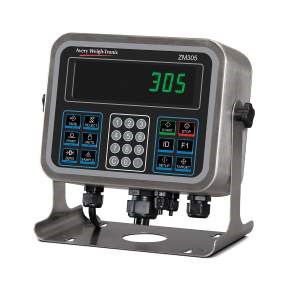 The ZM305 GTN Inbound-Outbound offers the ability to store gross, tare and net weights for up to 1000 container IDs. Suitable for use in vehicle weighing applications, the ZM305 GTN can be used for any application where container weights need to be recorded against a tare ID/register.
The ZM305 Standard can analyse, store, display and transmit weighing data. The numeric keyboard and built-in functions fulfil common weighing requirements, including counting, checkweighing and process control, while the ability to store multiple TAREs and IDs in its internal memory provides users with simple data storage and retrieval.
The new indicators are fast, accurate and can support up to 12 weight sensors. Connectivity interfaces include Ethernet, RS232 serial interface ports and a USB port. Analogue output, USB device, current loop, RS485/RS422 and wireless connectivity are also available.
ZM indicators can cover a wide range of applications, from general weighing and process control to situations with high pressure or heavy washdown.



OTHER ARTICLES IN THIS SECTION