ARTICLE
Platform to future-proof mobile
07 October 2014
According to Zetes, managing mobile applications in the supply chain has never been so demanding. Devices change, operating systems change and every instance of change puts a strain on IT departments and management. Ensuring the compatibility and longevity of a mobile system has traditionally required continuous investment in time-consuming and costly development, deployment and IT infrastructure. With the launch of the MCL Mobility Platform, a Mobile Enterprise Application Platform (MEAP) dedic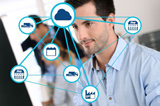 With the MCL Mobility Platform, it is reported that Zetes' customers can build, deploy, run and manage mobile applications faster and from virtually anywhere, regardless of operating system (OS) or mobile device. The MCL Mobility Platform combines two features that create synergy for its supply chain customers. Firstly, it is dedicated to supply chain process execution; and secondly, it manages the entire mobile infrastructure, application and device lifecycle – enabling a 'build once, deploy to many' approach.
Using the platform, customers can manage the entire mobile infrastructure lifecycle, from building and/or enhancing the application, deployment and integration, right through to the management of applications, devices and users. The all-in-one platform future-proofs the mobile business using the following key features:
Multi-platform and device-independent: applications are built once and deployed to as many devices as needed, regardless of the operating system or device type (industrial and consumer devices). This removes the need for costly and time-consuming (re)development and testing.
Central management: applications, users and devices are managed centrally, from virtually anywhere. This reduces the need for complex IT infrastructure and facilitates management of heterogeneous or geographically dispersed estates.
Cloud-based, pay as you go solution: available as a SaaS, the platform removes the need to invest in costly IT infrastructure, is scalable and gives clear visibility of costs.
Full lifecycle support: the platform enables pro-active management and monitoring of apps and devices to ensure optimal performance.
OTHER ARTICLES IN THIS SECTION