Home
>
Inspiring educational event
ARTICLE
Inspiring educational event
10 November 2014
Bott recently played host to a replica of Bloodhound's supersonic car, giving local primary school children the opportunity to tour the Bott facility, followed by the chance to emulate the Bloodhound team and create a balloon powered car to compete in a race.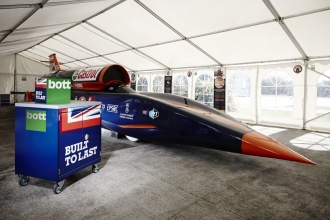 The highlight of the day came at the very end of the visit, when the pupils were given the chance to see Bloodhound's model rocket car in action.
Clive Woodward, CEO of Bott said "The Bloodhound team are showing what can be achieved when you combine passion, determination and focus, and in doing so, inspiring the next generation of engineers. As a successful engineering company, Bott share these values and we're delighted to showcase the project with schools in our local community."
RELATED ARTICLES
No related articles listed
OTHER ARTICLES IN THIS SECTION