ARTICLE
Cross strapping enhanced
12 November 2014
Mosca has enhanced its fully automated tandem machine for cross strapping, the SoniXs TAI-6, with the introduction of two models – Base and Pro – both of which utilise the company's ultrasonic technology to provide reliable, quick and secure cross strapping for high throughput industries such as print and logistics. The machines offer safe operation and ease of use, with different levels of standard features to meet individual user requirements.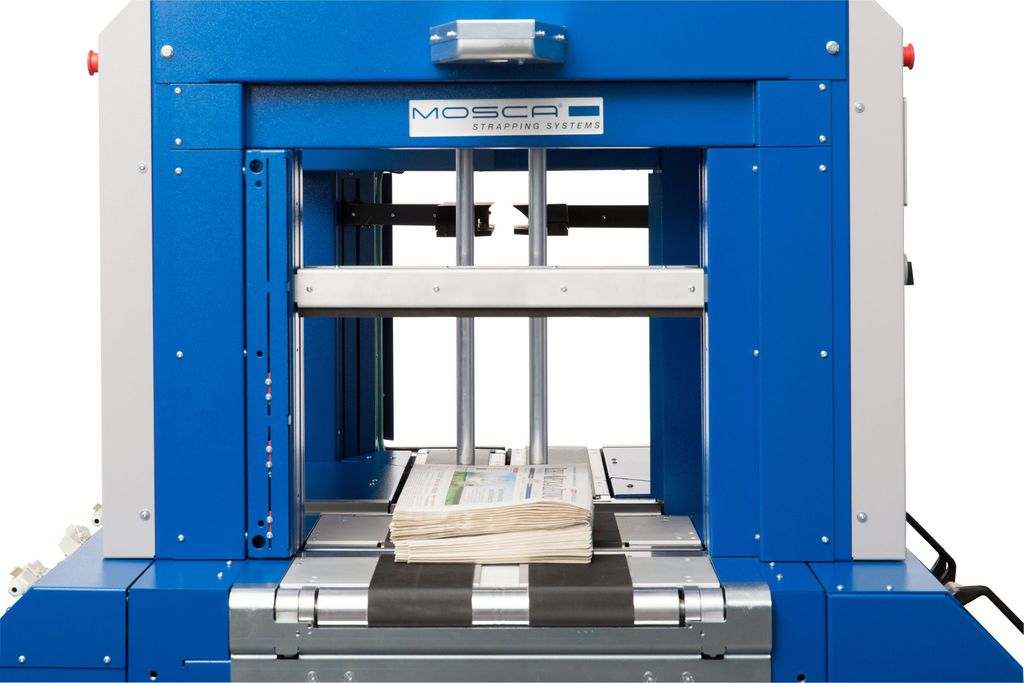 The SoniXs TAI-6 Base and Pro combine transverse strapping and inline strapping in a single process without turning the product to ensure the accurate and reliable securing of products. They offer high levels of process safety, a vital benefit for industries with a high throughput and high machine availability.
Welding is achieved through Mosca's patented ultrasonic technology SoniXs, which features highly efficient sealing units that are instantly available because they do not require any pre-heating. Energy consumption is minimal as mechanical vibrations are only produced during the time of welding. The seam achieves a strength of up to 85% of the tensile strength of the strap and is therefore absolutely stable.
Both machines are built on the same high-performance mechanics, and contain CE marking from the factory. The hold-down device and the back stop have been specially designed to pose no danger and do not need any additional protection. Customers can therefore easily integrate the strapping system into their production line without any extra safety measures.

A newly unitised Standard-6 strap path provides ease of access for all core components, allowing fast maintenance and cleaning. The strap path is dismantled easily and tool free, and can be put back together within a few steps.

The SoniXs TAI-6's modular construction means the top-of-the-range TAI-6 Pro is considerably more cost-efficient compared to the previous model, while being more flexible and offering improved performance. The Base model, meanwhile, offers Mosca quality at an entry-level price, meeting in particular a need in the print industry for a cost-effective tandem inline strapping solution.

The SoniXs TAI-6 Base is equipped with a MSCB-1 control panel and a keyboard. Pneumatic actuators ensure a reliable and smooth strapping process.

The SoniXs TAI-6 Pro incorporates electro mechanical actuators, and has a specialised B&R machine control. The Human Machine Interface (HMI) touch panel is language-independent and provides intuitive operating, making the machine extremely versatile in any conditions worldwide. Strapping processes can be pre-programmed and automatically adjusted to specific requirements.

Different operator levels can be set to optimally protect the machine and its individual process steps from operating errors. The machine also offers detailed error messages combined with trouble shooting support while full network capability enables diagnosis to be carried out remotely at Mosca's head office in Waldbrunn, Germany.
With a strap frame size of 600x600 mm, the SoniXs TAI-6 Pro straps up to 37 packs per minute, while the Base variation achieves up to 30 packs.
OTHER ARTICLES IN THIS SECTION