ARTICLE
TGW's perfect fit for MANGO
13 January 2015
TGW is implementing an automated logistics solution for Spanish fashion brand MANGO at the company's new distribution centre in Barcelona.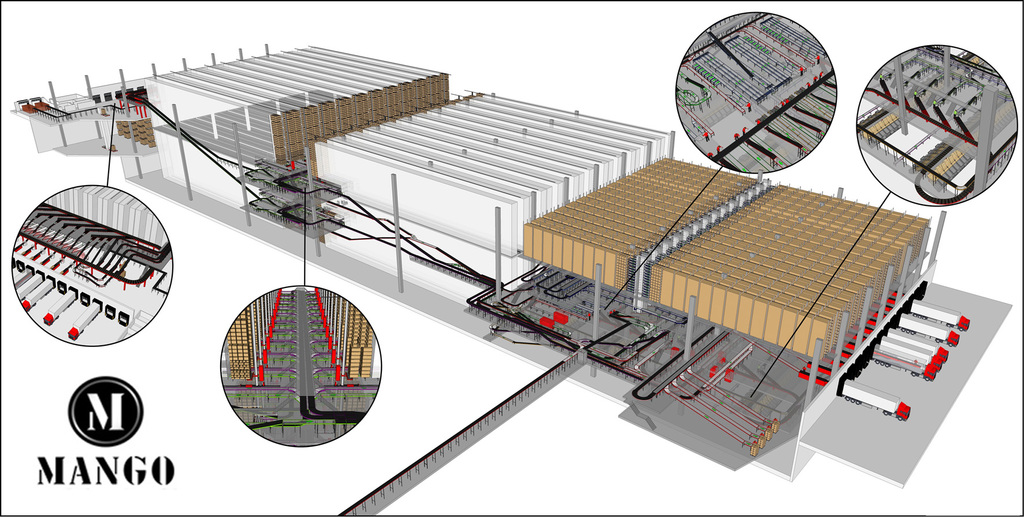 To cope with an increase in the number of international shops and a permanent extension of the product range, TGW offered MANGO a best in class, cost-effective solution for the logistics centre, which will support the company's growth with minimum labour costs.
The centre will unify the handling operations of flats, preconfigured assortments and hanging garments for shop replenishment. The installation combines complex processes capable of handling almost 38,000 different stock keeping units (SKUs). Up to 4050 shops will forward their orders to the logistics centre every day resulting in an estimated total preparation volume of 350,000 order lines per day.
The solution consists of a large multifunctional automated carton warehouse system used as case storage buffer for order consolidation and a dispatch buffer for flats, hanging garments and cross-docking order cartons.
The order fulfillment solution for the unit picking is based on a combination of sortation systems and goods-to-person workstations. These are fed by a common shuttle engine that enables the preparation of units from a large product range including accessories, flats and shoe boxes into order cartons classified by family group.
The automatic carton warehouse with 33 aisles accommodates TGW's Magito automated storage and retrieval (AS/R) machines with Twister load handling devices that follow the "push-pull" principle. Another 11 aisles are operated by TGW's Stratus AS/R machines, also equipped with Twister load handling devices. In addition, TGW will implement 14 aisles with STINGRAY Shuttle technology operating on 13 levels. The carton warehouse will provide space for approximately one million storage locations. In addition to the extensive warehouse, a goods-to-person order picking system and a sorter, TGW will also implement the overall Warehouse Control System and Material Flow Controller.
Javier García Cerrada, managing director of TGW Ibérica said: "This been has been a challenge in which the creativity and effort of the team was key to achieving success. We are looking forward to a great collaboration with MANGO."
OTHER ARTICLES IN THIS SECTION