ARTICLE
Powered roller conveyor
12 February 2015
LB Foster Materials Handling has designed, manufactured and installed the conveyor system, lifts and transfer cars for an automotive tabbing cell.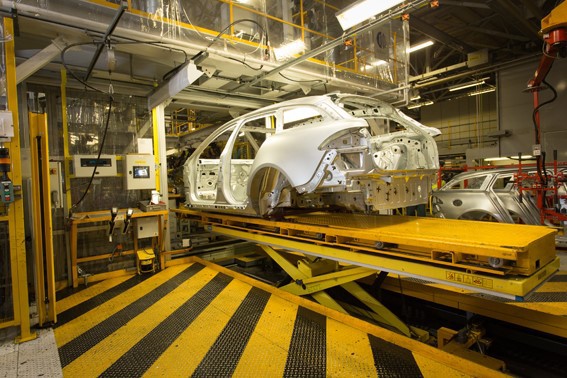 LB Foster worked with Comau who supplied the assembly line technology for the XF Sportbrake at the Jaguar Castle Bromwich plant.

The first stage of the project included a powered roller conveyor, mounted on a hydraulic scissor lift table which in turn was mounted on a traverse car, to create a 'bridge' over some of Comau's equipment. The lift has to raise the body floor some 1.75m off the floor to enable it to enter the tabbing and framing cell.

When the body floor is received into this first station, operators manually attach the side body panels and other structural elements which are tabbed to hold them in place for the welding. Once this work is complete the scissor lift raises the body and the transfer car moves forward at the required height to feed it into the welding area.

The roller conveyor supplied by LB Foster at this station was mounted on a special precise lifting assembly provided by Comau. Once the body is in the welding cell, the conveyor is lowered leaving the body, still on its skid, clear of the conveyor to enable welding by robots.

This tabbing and framing cell was designed so that there was always the potential to extend the system to provide extra capacity as production increased.
OTHER ARTICLES IN THIS SECTION