ARTICLE
Meeting European Good Distribution Practice
22 April 2015
Tinytag Ultra Radio temp/RH loggers have a low profile, compact design, making them suitable for discreet indoor monitoring.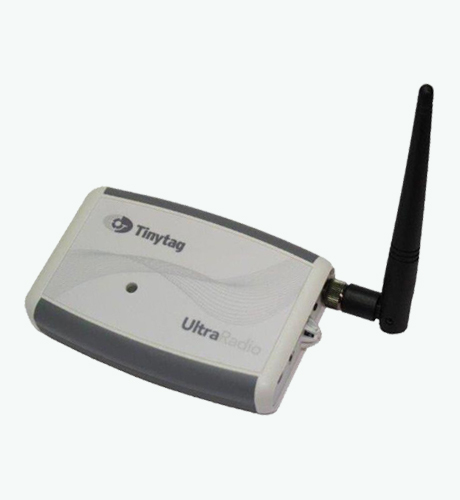 Ultra Radio units can be mixed and matched with the existing range of weatherproof Tinytag Radio products to meet the varied demands of the application. If temperatures fall outside a user-defined range, alarm warnings can be sent via email, which in turn can be used to generate text messages to enable corrective action to be initiated.
For example, Ultra Radio Units have recently been installed in a large pharmaceutical warehouse in Spain to help ensure that products are kept in the correct conditions, according to the requirements of European Good Distribution Practice (GDPs).
The loggers had to be placed at height, so an automatic system able to send data wirelessly using mains power was required, in order to avoid the difficulties of replacing batteries in inaccessible areas. The system also had to include an e-mail alarm service.
Other loggers in the Tinytag range include small stand-alone units that record data which is downloaded via a USB cable to a PC for analysis. Loggers include units that are BS EN 12830 compliant to meet the demands of the frozen and chilled foods storage and transportation industries. If temperatures fall outside the user-defined range, a red flashing LED or optional audible alarm will activate.
All Tinytags initially present recorded data as graphs and tables in Tinytag Explorer, an easy to use Windows program. Data can easily be exported to popular software packages and results from separate logging runs can be combined for comparison and analysis.
The Tinytag Radio Data Logging System monitors temperature to help verify that sensitive goods such as pharmaceuticals and food are kept within specified environmental conditions throughout the cold chain.
Data is gathered automatically and sent via a receiver for direct viewing on a PC, across a LAN, or remotely across the internet. Radio loggers self-configure to form a mesh network and can easily be moved or added as requirements change. They also record the data locally, enabling robust recovery if communications problems occur. Both mains and battery powered versions are available.
The Radio System is an effective solution in warehouses and cold stores where multiple monitoring points are required. The system can also be used in logistics operations, monitoring temperature in refrigerated delivery vehicles and storing data locally while the vehicle is out, then automatically offloading it once returned to the depot and within range of the radio mesh network.
OTHER ARTICLES IN THIS SECTION