ARTICLE
Minimal cost mini warehouses
14 May 2015
Leading temporary building specialist, Aganto is to launch a new range after listening to customers and recognising the change in trends in the market. The Mini Warehouse Rental Company, to be launched next month, will offer even quicker installation at low cost for a choice of mini sized warehouses.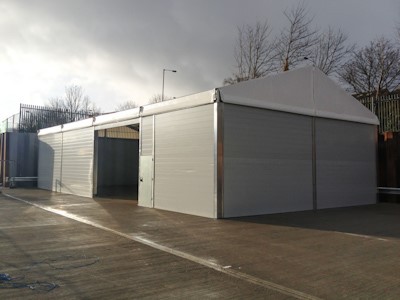 The new range is targeted at businesses that currently choose containers, off-site storage units or curtain-side trailers. With more facilities and features than a standard container, the mini warehouses are available in a variety of sizes and rental price packages to provide customers with a selection of flexible costs and options suitable for any budget.
Marketing manager, Ruth Oxley explains: "We know from our customers that cost and planning permission can often be an obstacle and a challenge for them. Aganto are in a position to offer a low cost alternative to traditional Aganto buildings. This means no hassle, no planning permission and no need to travel off site for storage at an extremely affordable price.
"Aganto's ethos has always been to listen and adapt to the customers' needs. We wanted to offer an 'off the peg' range where you simply have to choose the size and price package. With a mini warehouse, you can use the space for whatever you like; storage or workspace with immediate access and for much better value. We really are offering the perfect one-stop storage solution."
Rental only, with a minimum twelve months hire, the new mini warehouse can be delivered on-site in just over a week and payable by direct debit.
OTHER ARTICLES IN THIS SECTION