ARTICLE
Sensors showcase
08 September 2015
Delivering innovative sensing technologies that support a safer food chain will be the focus of SICK's solutions for hygienic environments, quality inspection and product traceability showcased at the PPMA Show 2015.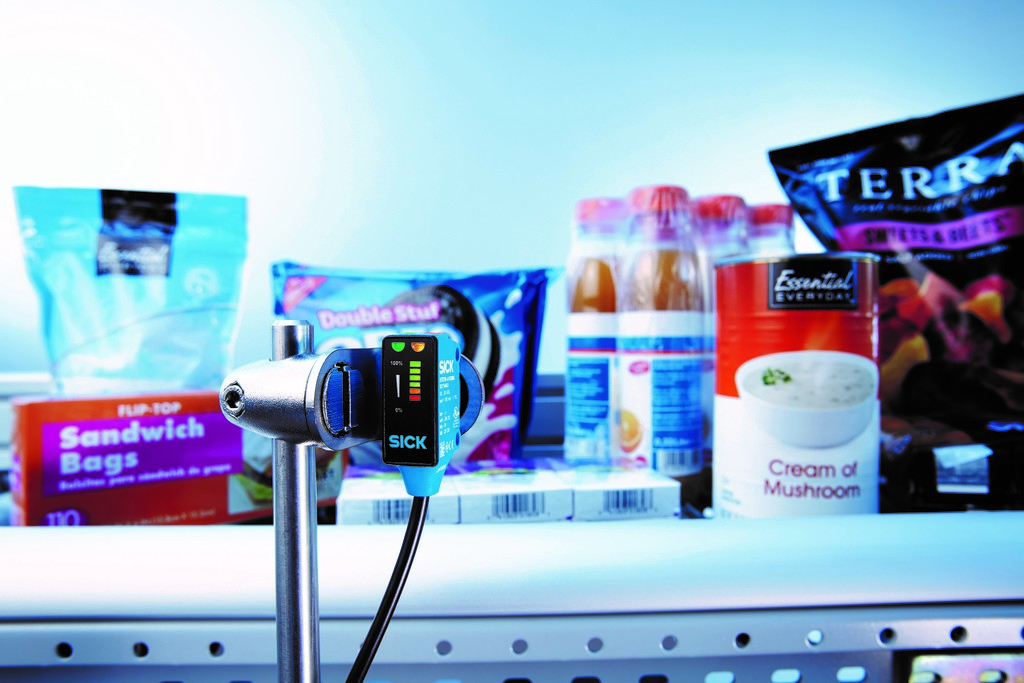 SICK's packaging and processing product specialists will be available to advise visitors how to find the best solutions from its wide portfolio. SICK's specialist industry knowledge for food, beverage and packaging automation helps customers to access the right product to optimise process and control for every production challenge.
"Progress in food technology, the globalization of trade, and shifts in our eating habits have created new conditions for the production and consumption of food. Food chains are becoming increasingly global and complex, demanding better information on the origin, quality, and safety of the food and drink products, says Glynn Edwards SICK UK's FMCG segment manager.
"The need for transparency, information and control in the entire supply chain has never been more important. Today's sensor manufacturers must offer the right choices for the right applications for processing, packaging and distribution that deliver total reliability without compromising on production efficiency, even in tough hygienic environments."
Smart Sensors
SICK believes it is the first company worldwide to launch advanced 'Smart Sensors' across its product ranges providing applications developed to food processing and packaging needs.
SICK has built advanced intelligence into IO-link enabled sensors and achieved powerful new on-board processing capability for photoelectric, magnetic and proximity applications. As a result machine technologies and automation on high-speed production lines can be optimised, taking full advantage of Industry 4.0 factory-wide communications.
PAC50 Pneumatic Pressure Sensor
SICK's newly launched PAC50 will also be a star attraction at the PPMA Show. The PAC50 is a specially-developed pneumatic pressure sensor for improved air pressure monitoring with an at-a-glance display to provide clear warnings of crossing pressure thresholds within a target range.
The PAC50 is ideal for an extensive range of pneumatic control and process functions for packaging and conveying applications. The PAC50's outstanding multi-field on-board LCD display provides colour-coded visibility even at a distance and is configurable to meet the user's preferences, so operators are able to monitor process conditions straight from the factory floor, as well as via the control PLC.
TriSpector 3D Inspection System
SICK's industry-leading expertise in vision technology to support quality control and automation in food and packaging applications will be underlined by the launch of the new SICK TriSpector 3D inspection system at the show. The TriSpector will take its place alongside leading SICK product brands Inspector, Lector and LMS series to demonstrate SICK's complete solutions for image processing to support full speed quality assessment of products, packaging and labelling.
Machinery Safety
SICK has been known as a global leader in machinery safety for many years. The comprehensive family of SICK safety products meets all relevant machinery safety standards without compromising productivity. They include sensors, light curtains, scanners and the modular Flexisoft PLC safety controller system. SICK's safety specialists also offer design and installation support for all types of safe operation from stand-alone bottling or mixing plant to complete filling, packing, palletising and wrapping lines. Stand E60

OTHER ARTICLES IN THIS SECTION