ARTICLE
Couzens customers to benefit from manufacturing investment
05 January 2016
Couzens Storage Solutions' equipment supplier is building on its success in the USA. Systems Logistics, manufacturer of Modula Vertical Lift storage and retrieval systems, has opened a new factory in Lewistown, Maine.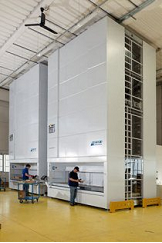 The 1,000m² plant will manufacture the company's full line of automated picking and storage solutions and represents an investment of nearly $10 million in new equipment and facility upgrades.
Couzens Storage Solutions is the UK distributor, managing sales, installation and after-sales service support for Systems Logistics' Modula machines part of its range of automated storage and retrieval systems. Modula clients include GlaxoSmithKline, GE, IMM Hydraulics and Biotec International.
Modula Vertical Lift Systems are available from 3.3m up to 14.1m high, with tray widths of 1.90m, 2.50m, 3.10m and 4.10m, and tray depths of 654mm and 857mm. Tray loads in all sizes have capacities of 250 kg, 500 kg, 750 kg and one tonne. A complete range of accessories aids picking, replenishment and software integration to clients MRP/ERP systems.
Modula production is a business unit within System Group, one of Italy's largest industrial conglomerates whose interests include packaging, ceramics and electronics as well as logistics. The group has almost doubled turnover in the past two years with annual sales now in excess of €51m, employing 1,400 staff and active in more than 30 countries.
Its new automatic picking to pallet system recently won the 2015 Beverage World Warehousing Award.
OTHER ARTICLES IN THIS SECTION