ARTICLE
Double-storey storage
11 February 2016
Electrical component manufacturer and distributor Multi-Contact has made the most productive use of a recent re-location project by installing a Modula Vertical Lift storage and retrieval system from Couzens Storage Solutions.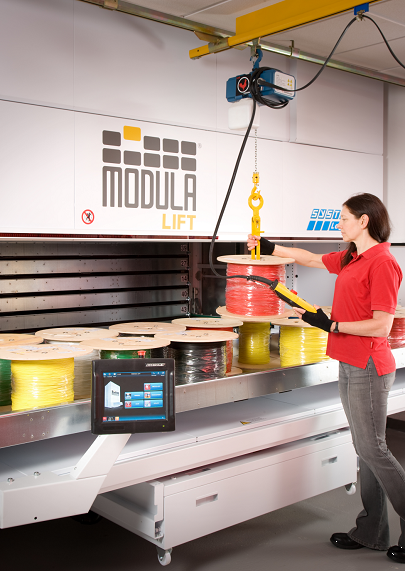 As part of the refurbishment programme, the contractors removed part of the ground floor ceiling to enable Couzens to install a 6.1m high version of the Modula, using the maximum available headroom in the building for storage.
Providing safe, secure, fast and productive storage and picking for the company's range of electrical connectors and contact systems, the Modula provides186² of storage (around the size of a tennis court) on a footprint of just 18.3m². The previous storage facility using standard shelving occupied some 263m², so the new installation has saved 245m².
The Modula is equipped with 53 trays 4,100mm x 857mm in size, each tray fitted with adjustable dividers to accommodate a wide variety of materials and components.
Multi-Contact holds and distributes a wide variety of electrical connectors and small parts including quantities of cable reels weighing up to 50kg, up to 275mm high and 400mm in diameter.
Operatives use a touch screen Co-Pilot console to simply call up the required tray with the specified product, which is presented automatically in seconds at a comfortable picking height. The PLC console can be moved along the full length of the picking face to save time when picking and viewing the screen.
OTHER ARTICLES IN THIS SECTION