ARTICLE
Employee ownership success
08 March 2016
Union Industries is celebrating the success of its first year as an Employee Owned company, which has set it on course to record one of its best financial years since it was incorporated in 1975.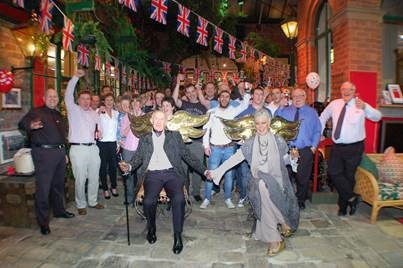 In the 12 months since its founders, Paul and Isobel Schofield sold their shares to the Union Industries Employee Ownership Trust, the company has experienced an ongoing period of increased demand for its products and services, expanded its workforce and also put into practice a number of ideas suggested by staff, which has contributed to the company's success.
Leeds-based Union manufactures a range of industrial products, including its market-leading range of Industrial Rapid Roller Doors that are commonly regarded as the best in industry. These fast acting doors are installed in distribution centres, warehouses, factories and storage facilities to improve logistics and save heat loss for companies across the UK and Europe including Tesco, Cummins, ASDA, TRW, Lidl, Jaguar Land Rover and Bidvest Foodservice.
From its origins as a tarpaulin maker and repairer, Union has evolved to become a specialised bespoke manufacturer of advanced heavy duty textile products for both Civil and Military applications. The subsequent development of the company's engineering capabilities led on to the creation of the current range of High Speed Industrial Doors, including the Eiger Freezer Door.
"Because we understand how Employee Ownership works," comments Andrew Lane, Union's managing director, "and because it's very much about the 'people' at Union Industries, we have created a system that ensures fairness throughout the company, that's why we created a bonus structure that pays the same amount to every member of our team. We share the challenge of meeting our customer's needs so we should share the rewards of a profitable business."
OTHER ARTICLES IN THIS SECTION