Home
>
Strong relationship
ARTICLE
Strong relationship
11 April 2016
The best partnerships in business are based on synergy of products and performance and a mutual ethos of customer care.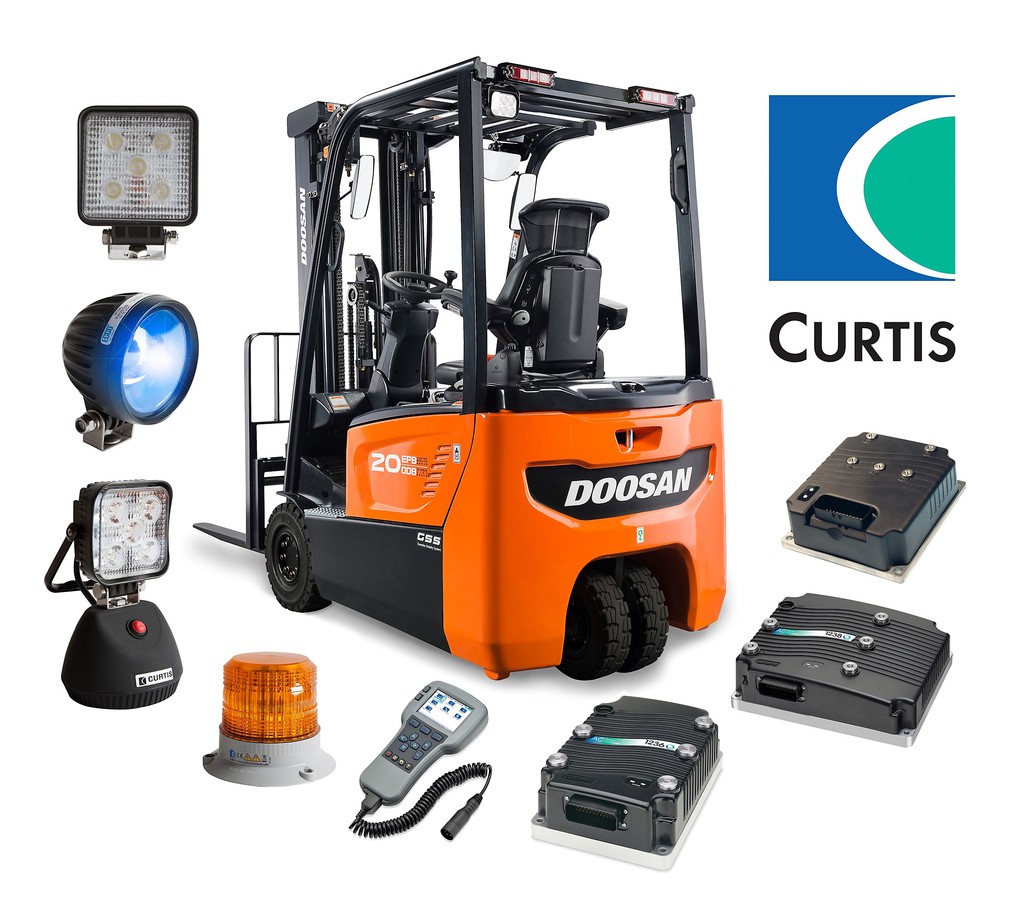 This is the case with Curtis Instruments and Doosan whose new advanced portfolio of electric powered forklift trucks, controlled by advanced Curtis AC motor controllers, are setting the industry standard, says the firms.
But let's start at the beginning. Many people would simply not realise that Doosan started life as a small shop in Seoul, Korea way back in 1896. The principles of the company are underlined by the meaning of the two words "Doo" and "San" which translate simply as "from tiny grains of sand make a great mountain" and proof of that principal is clearly displayed with their evolution into the Doosan Group with amazing Global growth into the huge corporation we see today. Not many companies can claim such a transformation from the manufacturing of women's cosmetics in the 1920's through to forklift trucks in 1968 and nuclear power, turbine manufacture and civil engineering today.
The electric aspect of the Doosan range offers a wide choice of robust capacities from 1.5 up to 5 tonnes combined with quiet, smooth manoeuvrability and proven benefit to the environment via the award-winning G2 engine, representing the way ahead in every respect. Every aspect of design is based on meeting customer needs and market awareness. The alignment of custom design and demand principals between the two companies has seen the growth of an integrated relationship with Curtis spanning numerous countries and products with a uniform support system.
At both R&D and production sites in Korea, Doosan utilise full Curtis AC control systems that benefit from the powerful enhancements of the E-Series range, like dual-microprocessor I/O logic and software that continually cross-checks critical circuits, ensuring maximum functional safety performance levels that comply fully with EN1175-1:1998+A1:2010 and EN (ISO) 13849-1:2009.
The 1222E controller provides safe "steer by wire" angle and direction, with the 1236E and 1238E controlling traction and hydraulics to combine powerful performance and reliability with functionality and easy system integration.
Systems are easily controlled and directed by Curtis' notable VCL (Vehicle Control Language) which Doosan have written, with assistance from Curtis. Engineers working with CAN devices are often frustrated that conflicting protocols fail to communicate with each other, often forcing designers to approach different manufacturers for expensive and time consuming modifications. The beauty of using Curtis AC controllers is the VCL's unique ability to convert conflicting CAN protocols into one common language for multiple device applications. Curtis VCL application code is at least ten times faster than similar systems; with more CAN mailboxes and more variables making development faster and more efficient and the end product and user experience unbeatably smooth and responsive. Drivers ask for it.
Equipment in the field is easily monitored and maintained by engineers using Curtis 1313 intuitive programmers as rapid accurate diagnostic tools for the entire truck system.
Once the forklifts arrive at Doosan's UK Headquarters in Northampton, home to their impressive UK Parts Distribution Centre and Service/Technical Support Team, the second part of the Curtis partnership kicks in.
Trucks are fitted with additional safety features including the clever Blue Arrow spot lamp that projects a directional arrow onto floors to alert pedestrians of an approaching vehicle (red also available) and bright, long lasting LED work lamps, as well as a versatile magnetic base engineers work lamps which can be used by either truck operators or maintenance engineers in any environment.
Truck batteries and are matched up with the corresponding Curtis Battery Charger. Varying depending on specification and use, they comprise – mostly – tough stationary Primo Power (or Pulse version for fast charging) - advanced high frequency models or small single phase Piccolos, ideal for wet-cell batteries in pallet trucks. All Curtis chargers are fitted with REMA connectors and come with long warranty and field support service. The request and supply system flows totally and easily and it's fair to say, that trust in the products and services are complete.
Paul Watson, sales director of Doosan is very happy with the multiple benefits of the Curtis connection. "It works in every respect to have this single source of supply and contact. Taking the three different controller units for example we looked, as we should, at all potential manufacturers but trusting our choice of Curtis Instruments for all of them means the best worldwide fit with easy ongoing development and attention for our range. Great products and a strong, easy relationship between the companies in Northampton enable us to provide complete support to our customers, whatever the size of their fleet or location and ensure absolute minimum downtime and impact on their business resources."
RELATED ARTICLES
No related articles listed
OTHER ARTICLES IN THIS SECTION